Recently Central Florida was graced with a visit from Variant Izzie! Variant J and myself were happy to have Izzie in the Sunshine State for a few days. After getting off the plane, we went to a delicious dinner at one of our favorite spots, Ethos Vegan Kitchen. Not quite ready to go home, we did a search for fun and unique places to hang out and found ourselves at a Karaoke Night at The Geek Easy. The Geek Easy is located next to A Comic Shop in Winter Park. While once sharing the same owners, they now operate independently of each other. 
When walking into The Geek Easy, you are met by a selection of video games and a shelf full of board games. We pulled out Jenga and found ourselves a table. The space was quite open and comfortable, with booths and tables. Silhouettes of your favorite comic book and anime characters were painted all around the room. When we arrived there was Monty Python and the Holy Grail playing on a screen behind the DJs booth, prior to karaoke beginning. 
We got to sample some of the drinks such as the Hyrule Hero, Flounder's Breakfast Stout and an apple pie mead called XR Cyser and enjoyed the tunes! While Variant J sang beautifully, Izzie, Aschfier and myself just took in the sounds as we attempted to build the highest Jenga tower! 
Arriving on a Monday night, the crowd was small, which was perfect for a post vaccine night out. Patrons were respectful of personal space and we all had a great time. Visit The Geek Easy for some weekly themes or special event nights! 
Monday- Karaoke
Tuesday- Twisted Tuesdays
Thursdays- Open Mic Night
Friday- Karaoke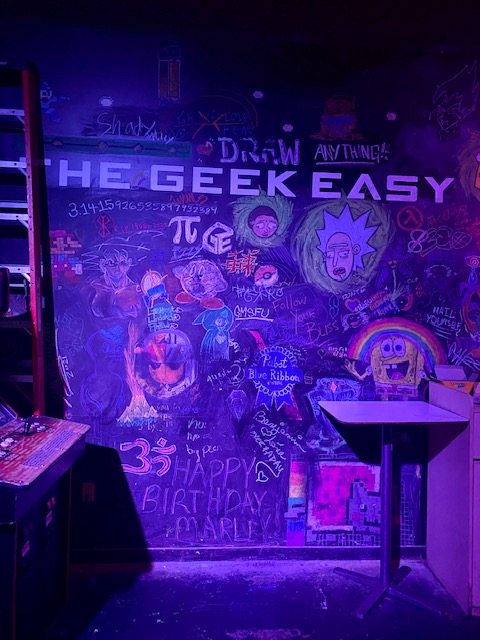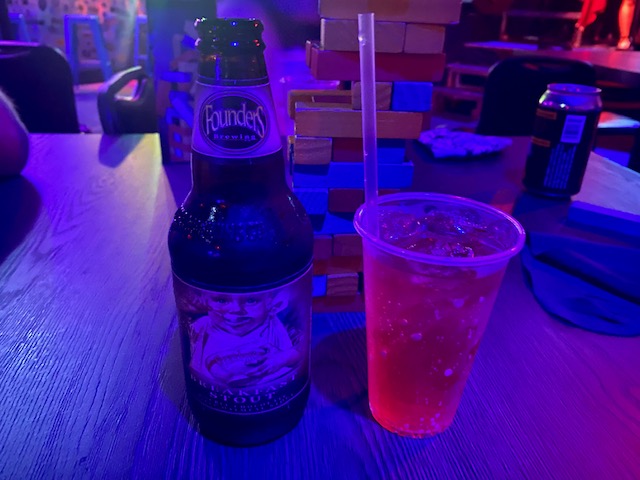 Do you have a favorite nerdy night life spot? Tell us about it!