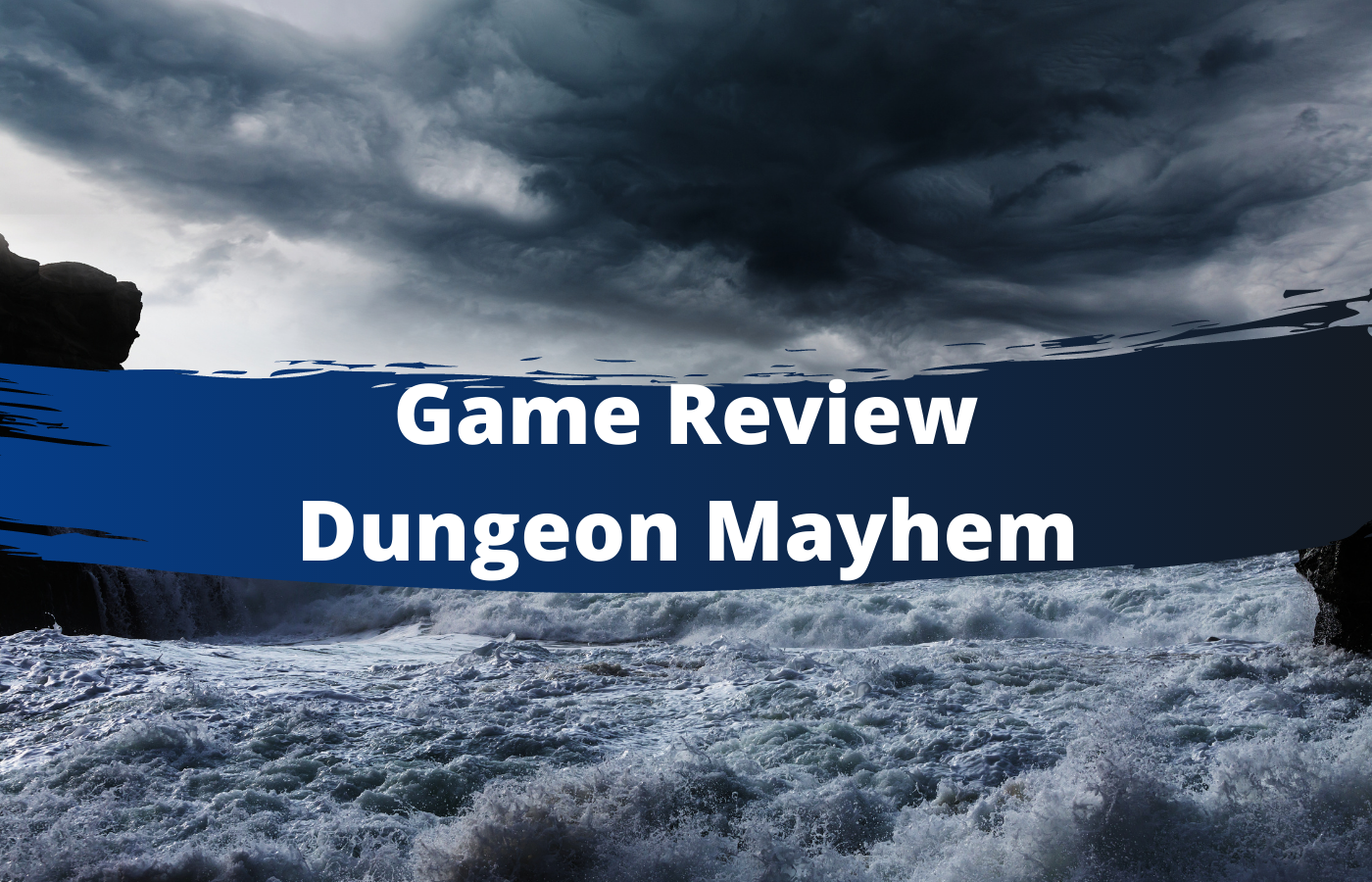 "Benny Rory would've played ball Dungeons and Dragons all day, all night, rain, shine, tidal wave, whatever. Baseball Dungeons and Dragons was the only thing he  cared about. But of all the things we ever did besides baseball Dungeons and Dragons, going to the pool playing board games is what he tolerated best." (The Sandlot, Evans, 1993)
TTRPGs such as Dungeons and Dragons can lead me so deeply into a collective consciousness it can sometimes be difficult to find my way out.  Some of the greatest sessions of which I have been a part were hours long, but in the moment felt like mere minutes.  These games can be an escape from reality, but even so, I am not always able to commit to them.
Enter Dungeon Mayhem.  This action-packed card game from Wizards of the Coast.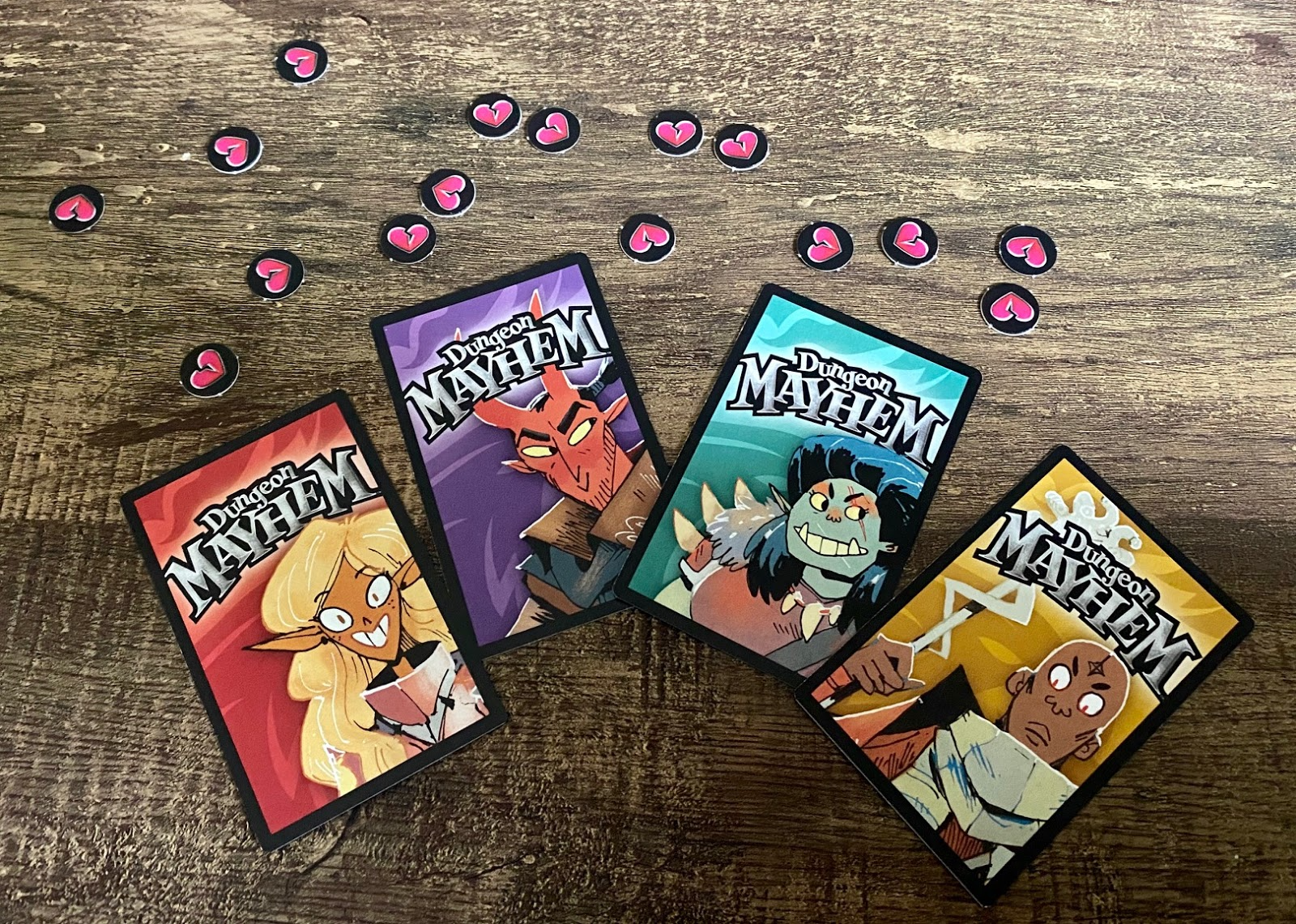 Overview
Dungeon Mayhem is an excellent way to introduce newer players to the tropes and drama of D&D without the level of commitment needed (financially and creatively) to enter into a TTRPG.  Designed for 2 to 4 players, it is great for groups of friends who are interested in the genre but aren't ready to invest in the equipment required.
The base game of Dungeon Mayhem consists of 4 decks, signifying the four characters players can choose from:  The Skull crusher, The Mystic, The Radiant, and The Clever.  Each deck behaves differently, with signature abilities you can play strategically to bolster your defenses, or to lash out at your opponents.  Each player has a health tracker, and is out of a round when they reach 0 health points.
Ease of Set Up and Play
Having played deck based games previously, I was pleasantly surprised at the ease of set up.  Each player chooses a deck, shuffles the cards, and selects their health tracker.  Each deck also contains a card outlining how to navigate their turn order.  I cannot recall a game I was more easily and rapidly able to set up from start to finish!
Replayability
The variety of play styles offered from the various decks, combined with the strategies needed to handle each opponent offers a lot of replay value from the base game alone.  There are also additional decks available for purchase to provide even more options.  Most of the times we play Dungeon Mayhem, we end up playing 3 to 4 rounds in succession.
Artwork
The cartoon style of the artwork is adorable and is accentuated by the delightfully witty card titles. With cards such as "All of the Thrown Daggers", "Two Axes are Better Than One" and "For the Most Justice", we found ourselves frequently chuckling as we completed our turns.
Enjoyment Level
Expect to laugh out loud while playing Dungeon Mayhem!  Our table became so boisterous through play we accidentally spooked our sleeping cat!  We all remarked that we loved how quickly the momentum of the game could change, giving all players a chance at a come-back-from-the-brink-of-defeat victory.  This game offers a cute, creative, and chaotic take on Dungeons and Dragons.
Overall
Dungeon Mayhem is a fun and frantic introduction to elements of tabletop RPGs.  But do not let the simplicity of setup and play dissuade you.  Judging solely on the volume of laughter (audible and quantifiable) shared at our table, this game is a win for our household!  I will be purchasing expansions to provide us additional hours of entertainment beyond that which this game has already provided!
*Update!
In June 2021, I picked up the Dungeon Mayhem Battle for Baulder's Gate Expansion Pack. Included were two new character decks featuring infamous heroes from The Sword Coast. Minsc and his hamster sidekick, Boo are represented on the ranger deck. The druid deck features Jaheira, in all her glory. See below for more pictures!
*Photo Credit: Variant Berry