Flourish is my most recent game from Starling Games, the makers of Everdell. I was lucky enough to have found the Kickstarter campaign for Flourish a while back and, truthfully, all I needed to know was that Starling was behind the project for me to back it. After having countless hours of fun with Everdell, I was excited to spend more time with their creations. Flourish, from James and Clarissa A. Wilson, is rated for 1 to 7 players, ages 8 and up and takes about 20 minutes to play a round. In the standard box you will receive instructions in English, German and French.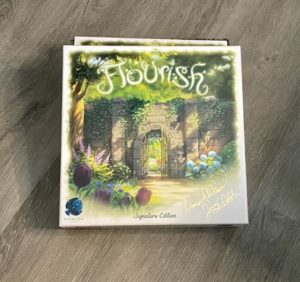 From box to play, this is one of the most difficult I have set up. I am very happy you only need to assemble the pieces once! I have never seen this many pieces to pop out and put together, including Everdell! But it is worth it to see all of the 3D structures assembled. I am happy with the choice of thick cardboard, as opposed to plastic for the garden structure. It ships easier flat and I believe the cardboard will last longer. I recommend not planning to both set up the game pieces and do game play in the same day, as it did take a long time for us to put it together properly.
The rule book is hefty and, more so than other games, I recommend taking the time to read through the rules before jumping into your first game. A little bit of preparation can really help smooth your game play and make for a more enjoyable session.
Flourish offers so much value for what is in the box! The game is designed for 1 to 7 players, with special rulesets for solo and two player modes. Additionally, there are variant rule sets for "Garden Show" and "Compost". Points can be earned by matching types of flowers, adding in different garden symbols or adding features to your gardens. Flourish can be played competitively or cooperatively. These official rulesets, coupled with the fact that there are so many ways to score points, gives Flourish one of the highest replay values out of anything in my game cabinet! 
My initial play through was with 3 players and we chose to play competitively. I look forward to spending the time to play though all of the various options. 
Everdell is the entire reason there is an artwork category in my reviews and Flourish does not disappoint! One thing that sets Starling Games apart for me is that there is beauty in every detail, no matter how small. Just look at that textured honey hive! The artist even manages to make a simple green lawn an inviting place to spend an afternoon. The artwork in and of itself will cause you to want to break out Flourish time and time again!
For all of its elegant artwork and soothing colors, Flourish is not a game for the faint of heart! I enjoyed the gameplay immensely, however; this may be a little too involved of a game to break out for a casual game night. 
That being said, this is the perfect game to jump into and forget the rest of the world exists. I recommend putting on some lovely music and turning off of your phone to fully immerse yourself in the world of Flourish! 
"…this is the perfect game to jump into and forget the rest of the world exists."
Overall, Flourish is a game I am happy to own and will be revisiting this again and again throughout the years to come! 
One very smart design element included is a card for the winner to take a social media picture of when they win! What a smart marketing touch that you know for sure as heck I'll be using! It was a nice touch, similar to how Monsdrawsity includes the hashtags on their whiteboards. In researching Starling Games for this article, I also came across the company's commitment to giving back. For every game sold, one will also be donated to Toys for Tots. 
Starling Games does not disappoint with their game design and stunning art work. I will continue to look forward any content coming from this talented group. 
Please note: Some of our posts may contain affiliate links which means the Team at Variant Ventures could earn money if you purchase products from our site.
*Photo Credit: Variant Berry