Southwest of Orlando is the beach town of Tarpon Springs. Originally famous for its sponge diving exports, this gem of a town is now an excellent location for a day trip if you are in the Central Florida area. While there are many reasons to visit such as dolphin tours, excellent Greek food, and picturesque ocean views, I want to tell you about one of my family's favorite spots – the Replay Amusement Museum.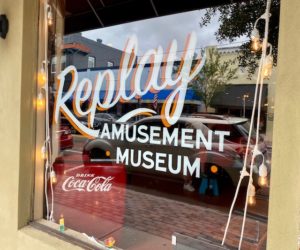 The Replay Amusement Museum is located at 119 E Tarpon Avenue, Tarpon Springs, FL 34689 and has been in operation for almost 50 years. Inside you will find over 100 games dating back to the 1960s. The walls are lined with dozens of pinball machines, with the newest in the front. The middle is filled with classic arcade games such as Pac-Man, Mortal Kombat, Tron, and more! 
My favorite part of visiting the Replay Museum is that you pay for a wrist band for all day play. We have done it in the past where we went in the morning, visited the beach in the afternoon, and came back in the evening for more fun. This time around, we spent some time in the museum with the kids and their friends and then came back later, just the parents and grandparents! Adults are $14, with discounts for children and seniors. There is also the option of purchasing a Frequent Gamer pass for 10 discounted visits, or an Annual Pass for a year's worth of fun.
If you are looking for some nerdy fun amongst the beauty of Tarpon Springs, you won't want to miss the Replay Amusement Museum!
Bonus Feature: Bear Haven Toys
Next door to the Replay Amusement Museum you will find Bear Haven Land Company, a fantastic vintage toy shop with a huge inventory! From vintage board games to Cabbage Patch Dolls, binders full of Pokemon cards spanning decades and a whole back room full of Hot Wheels and sci-fi offerings, you'll be hard pressed to leave without finding something that you are interested in. This time around, I found a musical clown that I had when I was a toddler (way back in the 80's) and my mother found a baby doll she had from the 60's! I was lucky enough to find a copy of Aevelations: Vision and the Scarlet Witch comic from 1982. 
Honorable mentions for non-nardy for places to visit when you are in Tarpon Springs include Andros Greek Grill (for yummy spanakopita), Get A Guru (for soap and bath products) and Hellas Bakery (for delicious treats)!
Photo Credit: Variant Berry