Welcome back, Artisans!
In my last article, I covered some foundational information on starting content creation for social media to get your work or business in front of more eyes. I wanted to expand on that information by giving you fine denizens the low-down on what apps and websites are going to help you maximize your reach, grow an audience, and hopefully get some buyers or clients coming your way.
One of the biggest marks of success for social media, and by proxy digital marketing,  is consistency – coming up with a regular posting schedule, and in some cases, a unified look for your feed. This last point is particularly important for instagram, where a good looking profile can make the difference between whether a potential customer will throw a follow your way or not.
Thankfully there are lots of awesome applications and websites out there that focus on this very task, so I'll be introducing you all to four such tools that can help you on your  journey. And the great news is all of these are free to start in some form or another! So lets get kraken'.
Free App with Upgrades (requires upgrade for desktop access)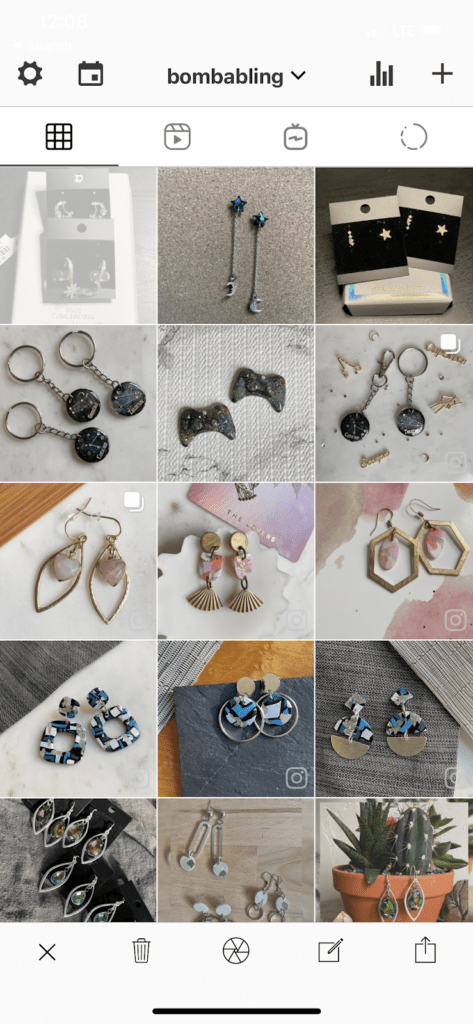 Preview is a great option for Instagram, and one of its unique features is that it comes with photo editing and filter packs that you can apply to your upcoming posts. This is perfect for planning a unified look for your feed straight from the app.
Free Version Pros: Unlimited posts; photo editing features; supports video & carousel; supports hashtag groups, supports team members; supports limited reel, IGTV, and stories
Free Version Cons: No desktop access; limited to Facebook and Instagram; Auto generates branded hashtags
Other Considerations: Offers 2 upgrade plans and moderate prices.
Free with Upgrades
Planoly is probably my personal favorite of the three third party options. The website design is by far the cleanest and most aesthetically pleasing of the bunch, and it's very easy to see which posts are scheduled or drafted.
The free version offers both Instagram and Pinterest management, 30 image posts per month, and basic analytics. The solo upgrade ($7 / mo) comes with a slew of great extras that make the investment worth it – video, auto-post first comment (for hashtags), advanced analytics, filters, and more.
Free Version Pros: Supports stories; best layout; supports hashtag groups; feature reach per-post options;
Free Version Cons: Limited to 30 posts per month; limited to Instagram & Pinterest (but will push to Twitter)
Other Considerations: Also offers custom plan building for higher tiers; moderately priced plans;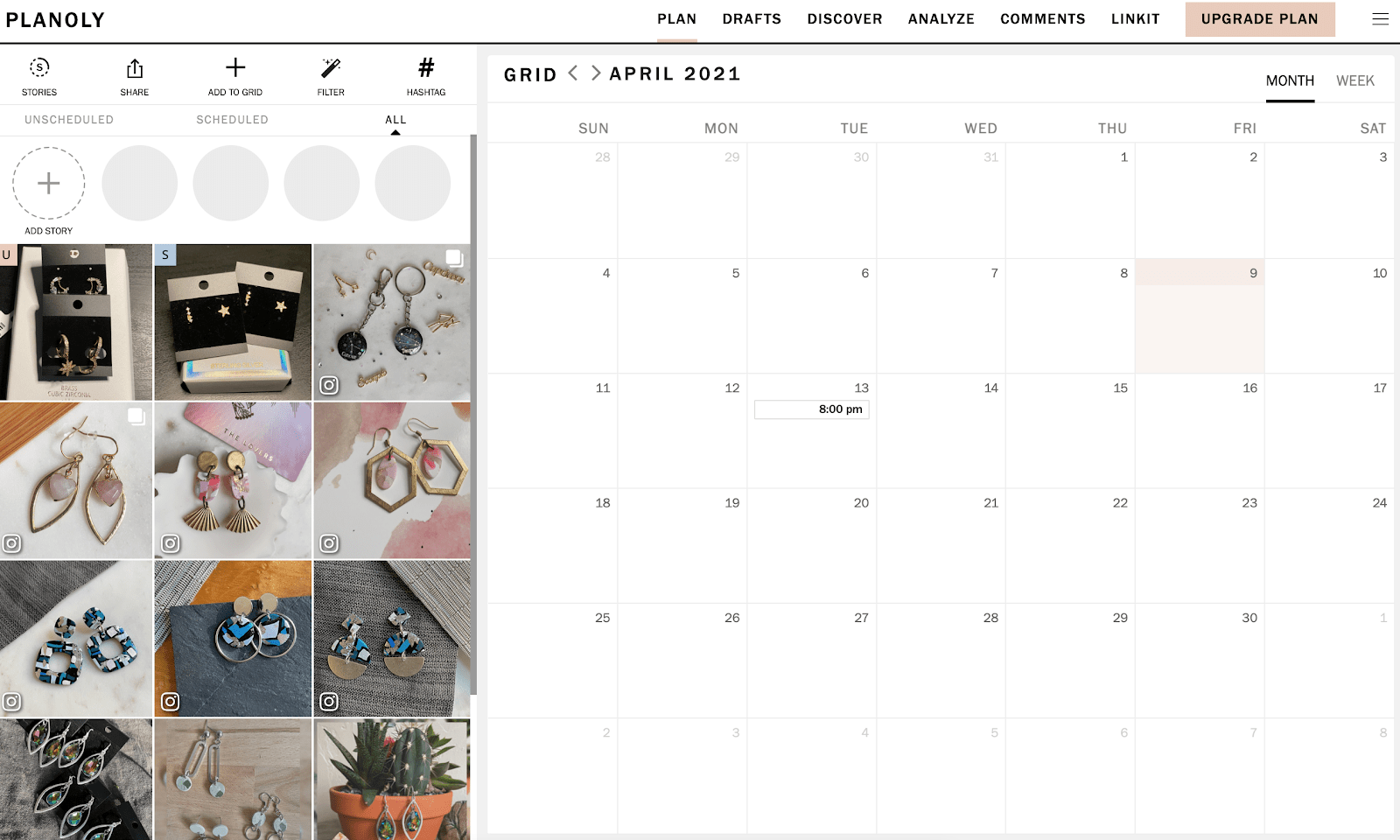 Free with Upgrades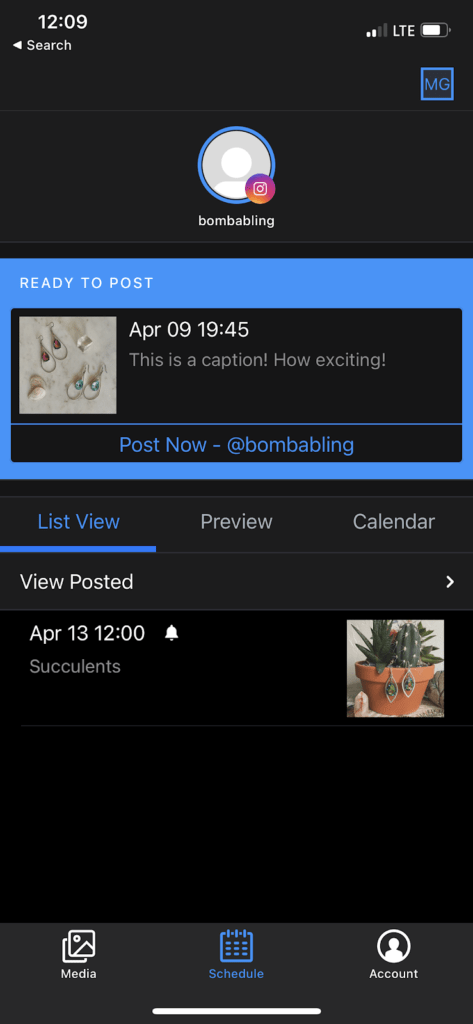 Later is another alternative, and offers desktop access with a limited run on how long you can use the app. The free version allows you to plan up to 2 weeks in advance for up to four social profiles (Instagram, Twitter, Facebook, and Pinterest), and integrates with Unsplash for stock photos and LinkIn.Bio for a link collection.
Free Version Pros: Supports up to 4 social profiles; supports desktop access; offers internal labeling for easy sorting;
Free Version Cons: Limited to 30 posts per month; only supports feed posts; maximum 2 weeks scheduling; no analytics;
Other Considerations: You can customize a plan to work with your needs; some of the most expensive premium plans; offers discounts to non-profits;
Free (Facebook / Instagram Only)
This has been going under the radar a bit, but Facebook is actually working pretty diligently to up their game in terms of offering easy support for their social media platforms. Since it's almost essential for artists and small businesses to be on Facebook and/or Instagram, it's definitely worth taking a look at their Business hub and in particular their Creator Studio.
I haven't dug too deep into these just yet, but it does offer very easy scheduling and built-in analytics. Their official studio lacks some of the fun features the above 3rd party platforms offer, like editing and support for other social networks. But, if you're getting started there's a lot to like about official support.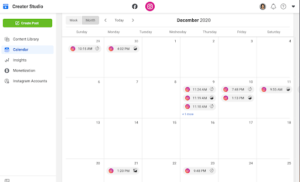 NOTE: One really important thing to keep in mind – there has been some contention online whether or not using 3rd party apps to auto-post to your feed is good or bad. All of the above apps are official partners of Instagram, however some social media managers warn that auto-posting can decrease reach and lead to false bot detection. There are others who swear by the auto-posting features and claim they never have experienced these drawbacks, even while supporting multiple clients. 
I would definitely recommend experimenting with options and figuring out what works best for you. Often a combination of one to two platforms (IE. planning the look on Preview and using Facebook Creator Studio to auto-post) can sometimes work as well.
I hope this helps! As always, please send me a tweet (or comment below) if you have any follow up questions or would like me to explore a topic related to starting and running your small business!