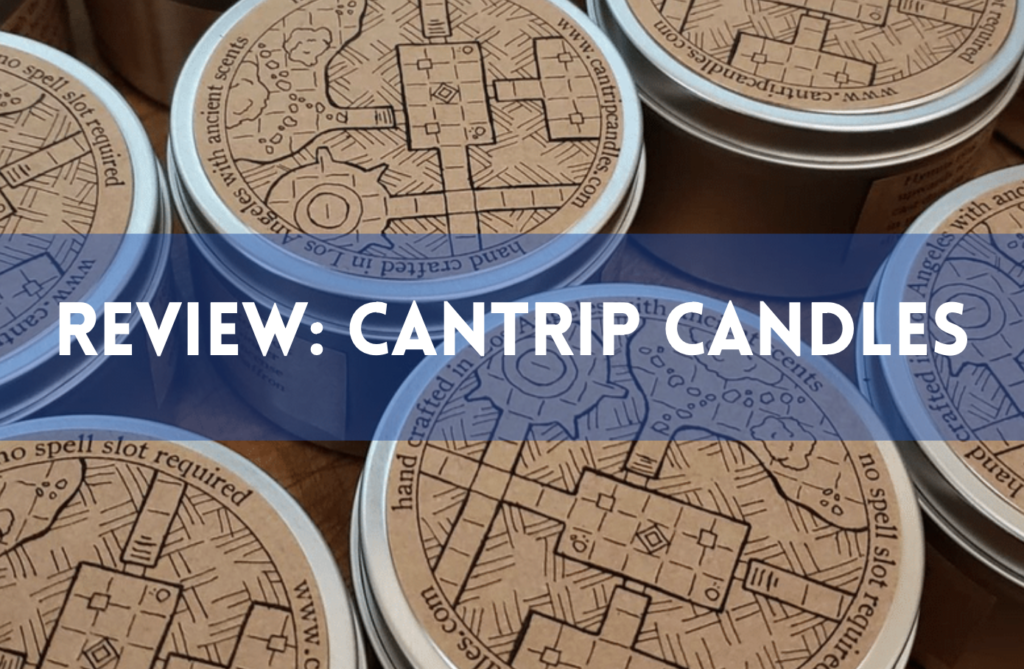 Feature Photo Credit: Cantrip Candles
Hey Variants,
It's me, Berry!  In my work at Variant Ventures it occurred to me that I had focused entirely too much energy on the titans of the TTRPG space.  To remedy this, I spent the beginning of this year researching and exploring independent creators and craftspersons within the industry.  It was during this time that I discovered Cantrip Candles, a company that enhances tabletop role-play through our olfactory senses.  I had previously used music, ambient sounds, props, and other similar methods to bring my game to life, but this was an entirely new idea to me.  Needless to say, I was intrigued.
Cantrip Candles has a large following.  So large in fact, that they typically sell out of stock within minutes of updating their site.  After several unsuccessful attempts, I was finally able to secure myself a sample pack.  Inside were 9 tea light candles in some of their most popular scents (though as I said, every scent is popular).  I also managed to get a larger Sweet Fig Farmhouse scented candle.  One cool fact about Cantrip Candles is that each of their large candles have a metal twenty-sided dice waiting inside!
After a brief wait, the candles arrived and my living room suddenly smelled like an apothecary.  I was impressed with each of the candles I purchased, and though Cantrip Candles offers their own descriptions on their site, I would like to describe to each of the individual scents below: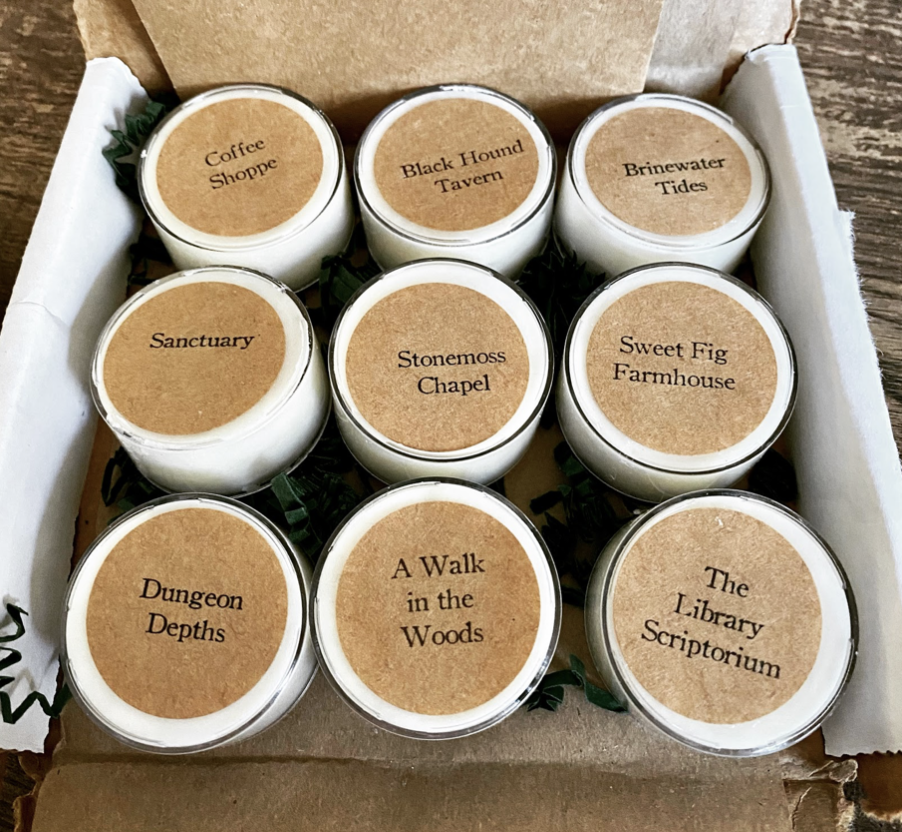 Sweet Fig Farmhouse
Figs are one of my all time favorite scents and flavors.  The sweetness of this candle nourished me to my core.  I was reminded of homemade jams, freshly baked breads and a feeling of comfort one only experiences while at home.
Coffee Shoppe
If I can be honest, this was the scent I was least excited to receive.  Don't get me wrong, there are fewer more relaxing smells than a freshly brewed cup of coffee to stave off a dull morning mind.  It is simply that just about every candle maker I have visited has had a coffee scent, and I was hoping for something new.  Despite my naivety, Coffee Shoppe was arguably the most surprising scent I received!  Rather than smelling like coffee beans, this scent brought me to an actual Coffee Shoppe!  I smelled not just fresh coffee, but also fragrant herbal teas and the sweetness of sugar.    This scent was so full bodied I was transported through time back to my days spent working in a local coffeehouse while in college.  Make no mistake by the name, this scent delivers in a way few other companies can claim!
Black Hound Tavern
A family member described this scent as "Exactly what I thought a tavern would smell like, without gross ale!"  I smell supple leather, dried tobacco and the smoke of a warm fire beside which to settle down.  It is the perfect scent to accompany any long rest!
Brinewater Tide
As someone who feels more at home in water than I do on dry land, this was the scent I most anticipated.  Not only does this candle manage to master the smell of salty, swelling waves cresting against a time-worn jetty, it also hints of a floral scent that reminds me of blooming beach roses and the start of long summers on Cape Cod.
Sanctuary
As I brought this candle closer, I was at a loss as to what I might expect.  I found it had both an earthy and fiery scent to it, and left me thinking of the safety of a campfire, though perhaps while protected by a magical tiny hut.
Stonemoss Chapel
There is a scene in the film "Ever After" where Danielle and Prince Henry walk together in the "ruins at Amboise".  I believe that this scent must smell like that scene in the film, where the natural world slowly takes over the creations of humanity.
Dungeon Depths
I was surprised by how much I enjoyed this scent!  When I think of exploring the depths of a treacherous dungeon, my mind brings forth rodents, expanses of thick mold, and stagnant, damp air.  This scent captures all of this but is also somehow comforting.  I imagine this scent is similar to the scene in the Jim Henson film "The Labyrinth" in which Sarah finds herself in an oubliette after insisting she is dropped by a group of helping hands.
A Walk in the Woods
This scent reminded me of home, of evergreen trees and fresh moss after a spring rain.  This scent carries with it the call to adventure.  A call I am all too ready to answer.
The Library Scriptorium
The scent of old, dry parchments, various inks, and dusty, ancient tomes.  I was reminded of the portion of Walt Disney World Resort EPCOT's "Spaceship Earth" where we are introduced to the scribes.  This candle contains the condensed wisdom of the ancients, and I was incensed with the allure of secret knowledge as the smell permeated throughout the room.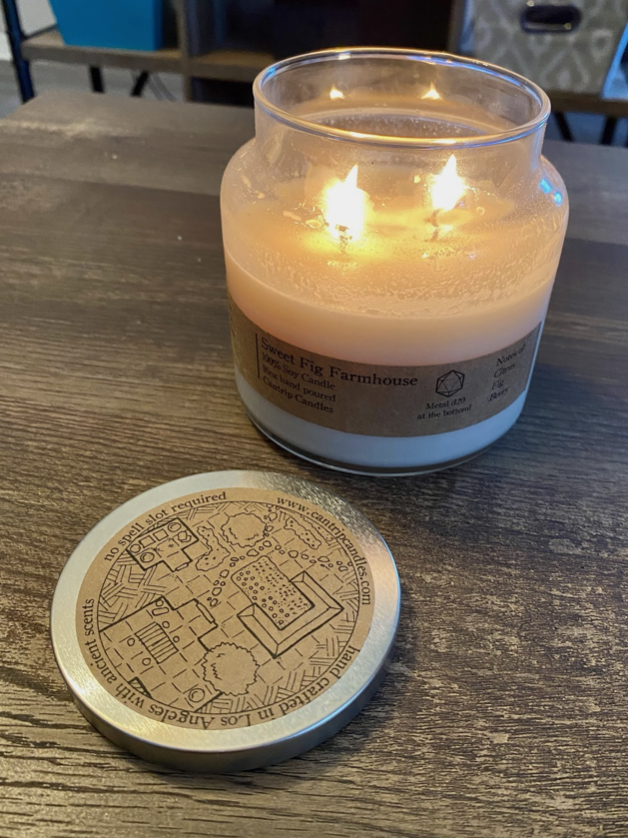 If the above list wasn't any indication, Cantrip Candles offers an eclectic collection of scents to cover any and all scenarios you are likely to encounter during a TTRPG session.  As stated previously, their stock sells out quickly.  Be sure to check their shop for updates, however, as they do frequently restock.  Though 2020 has caused shipping delays and shortages of materials world-wide, Cantrip Candles is hard at work keeping up with the demand of their ever expanding fan base!
Check out Cantrip Candles at www.cantripcandles.com
*Photo Credit: Variant Berry