Overview
Anyone who follows me on social media is well aware that I am a sucker for a quality Kickstarter. It has been the most enjoyable shopping experience for me! I love getting an opportunity to see what up and coming Indie game designers are creating. I radiate with glee as new funding rewards are unlocked as the community builds up a project. Enchanted Plumes from Calliope Games is one of my more recent Kickstarter rewards to arrive at VV headquarters. I must say I am immensely happy with the efficiency of this Kickstarter project, the ease that rewards were delivered out and the quality of the finished product! Enchanted Plumes is rated for 2 to 6 players ages 8 or higher, and a typical game can take 30 to 50 minutes to play.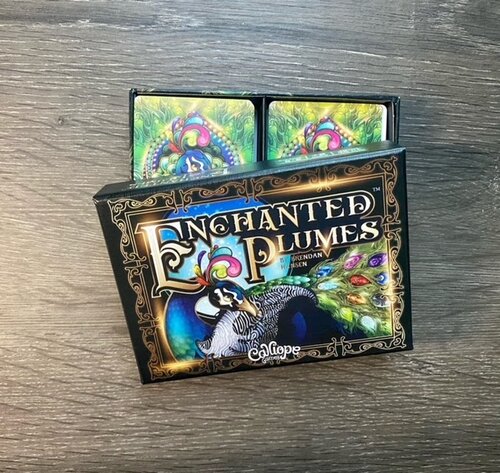 Ease of Set Up and Play
The elements of the game are contained within the 101 cards in the Enchanted Plumes box. There is some card elimination depending on how many players you have. For example, if you are playing with only 4 players you remove all of the cards with the number nine on them. The only hassle with setting up for me was the shuffling! It more resembled a game of 52 card pick up with my tiny hands! But that is only a small challenge, as the cards are crucial to the game play. Our first play through was with three players. We took out all of the eight and nine cards before shuffling to play, as per the rules.

Replayability
All three players took a different approach to setting up our top row of plumes, which ultimately made it a different game strategically for each of us. While the remaining strategy is the same, collect the most points, with ten different color options and rules for how you place the plumes, there are many different ways to build up your plumage and win the game.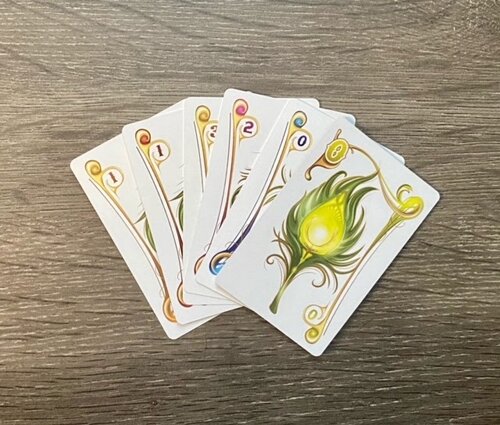 Artwork
I am impressed with the level of detail put into the artwork for Enchanted Plumes. Containing just 101 cards and a box, with 100 feathers, the emphasis on the art is spectacular! The bejeweled peacock feathers seem to have a magical quality about them. I'm partial to the purple myself, but the red and magenta are also wonderful! I am also happy that each of the colors have a unique design, helping to open the game to those who experience color blindness or low vision.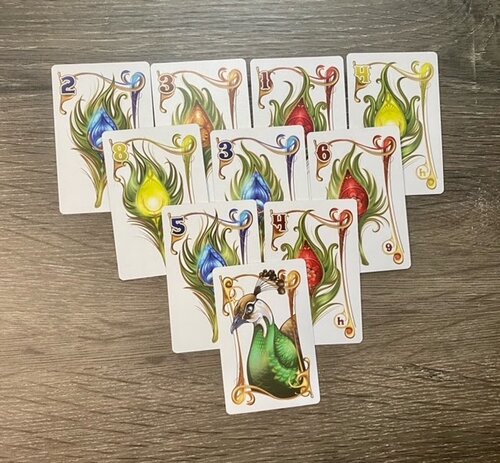 Enjoyment Level