Overview
Photosynthesis, from Blue Orange Games, is a resource management game rooted in nature. Players manage sunlight and seeds as they compete to complete the most life cycles of their specie of tree. This last year has seemingly become the year of long form board games that make you think, and Photosynthesis is no exception! Designed to last between 45 to 60 minutes for 2 to 4 players ages 8 and up, my household was the target demographic Blue Orange Games was aiming for.
I had spotted this game set up in my FLGS a while back and immediately fell in love with the forest theme that rings throughout the box artwork and concept of play. If this game was out when I was a child, I would've used all of the cardboard tree pieces to create an enchanted forest for my plethora of Littlest Pet Shops.  Despite my initial interest, it did take some time for me to pick it up (most of my gaming time and energy is focused on TTRPGs). Having spent an increased amount of time at home having game night with my family (thank you, 2020), I had the motivation I needed to snag myself a copy. And let me say I am glad I did!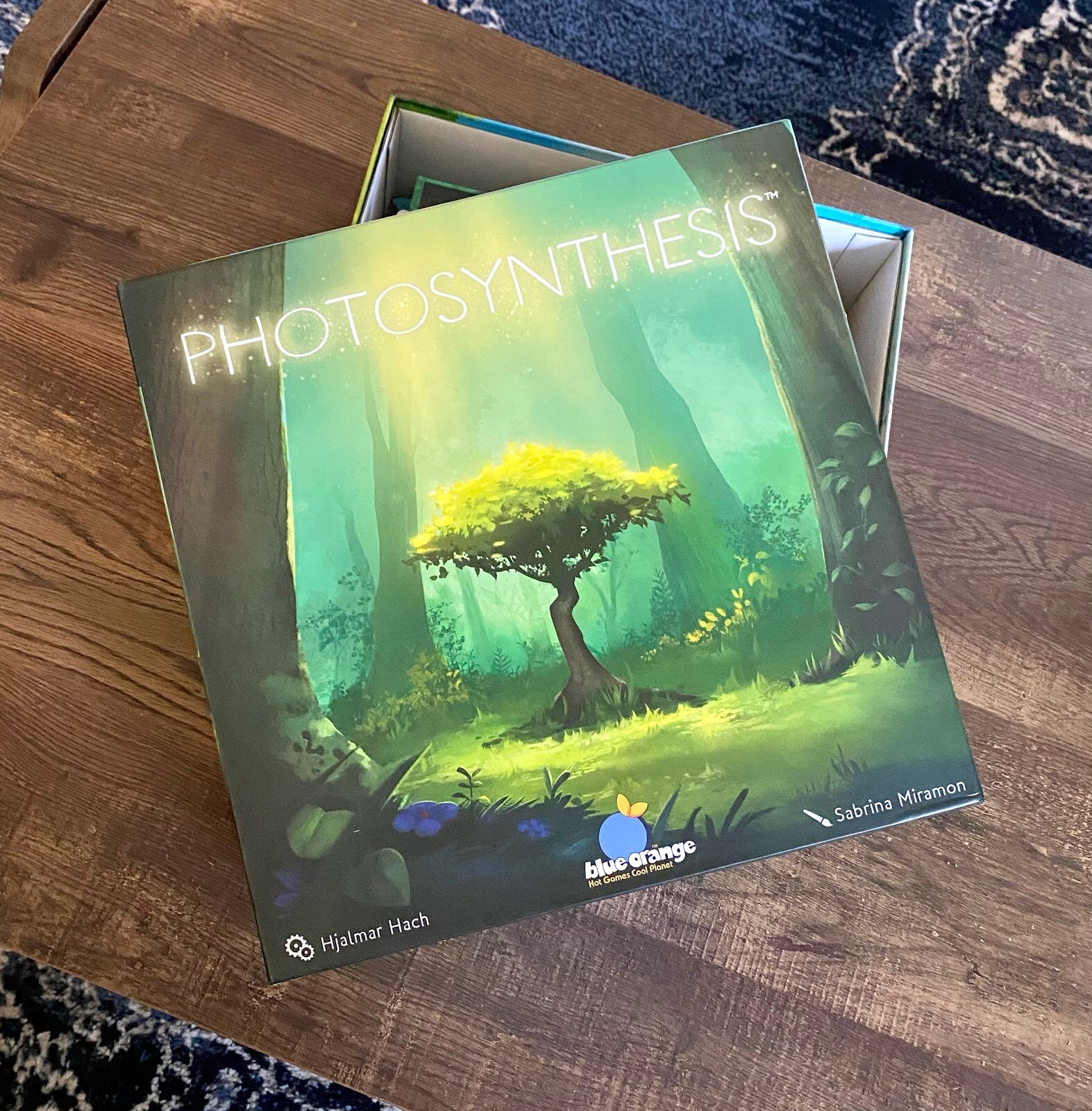 Ease of Set-Up and Play
My first thought picking up the box was that this game has weight to it! I understood why as soon as I opened the game box— there are many cardboard pieces to pop out and assemble. Due to the quality and sturdiness of the materials used, there was little risk of damaging the game. It will take some time to prepare everything for play, but assembly itself was not complicated.
The game is played over three seasons in which a sun is moved clockwise around the board over several turns. Each player is able to calculate the sunlight they've acquired and spend it to purchase new seeds, or grow and age trees. The true challenge comes with positioning your trees so that they block an opponent from collecting sunlight without preventing your own trees from getting theirs.
Replayability
Photosynthesis is a resource management game, in a similar to Catan. It is the type of game that is easy to learn, but difficult to master. Given the amount of hours (possibly days) our house has played Catan, I have no doubt that we will continue to enjoy many additional games of Photosynthesis in days to come!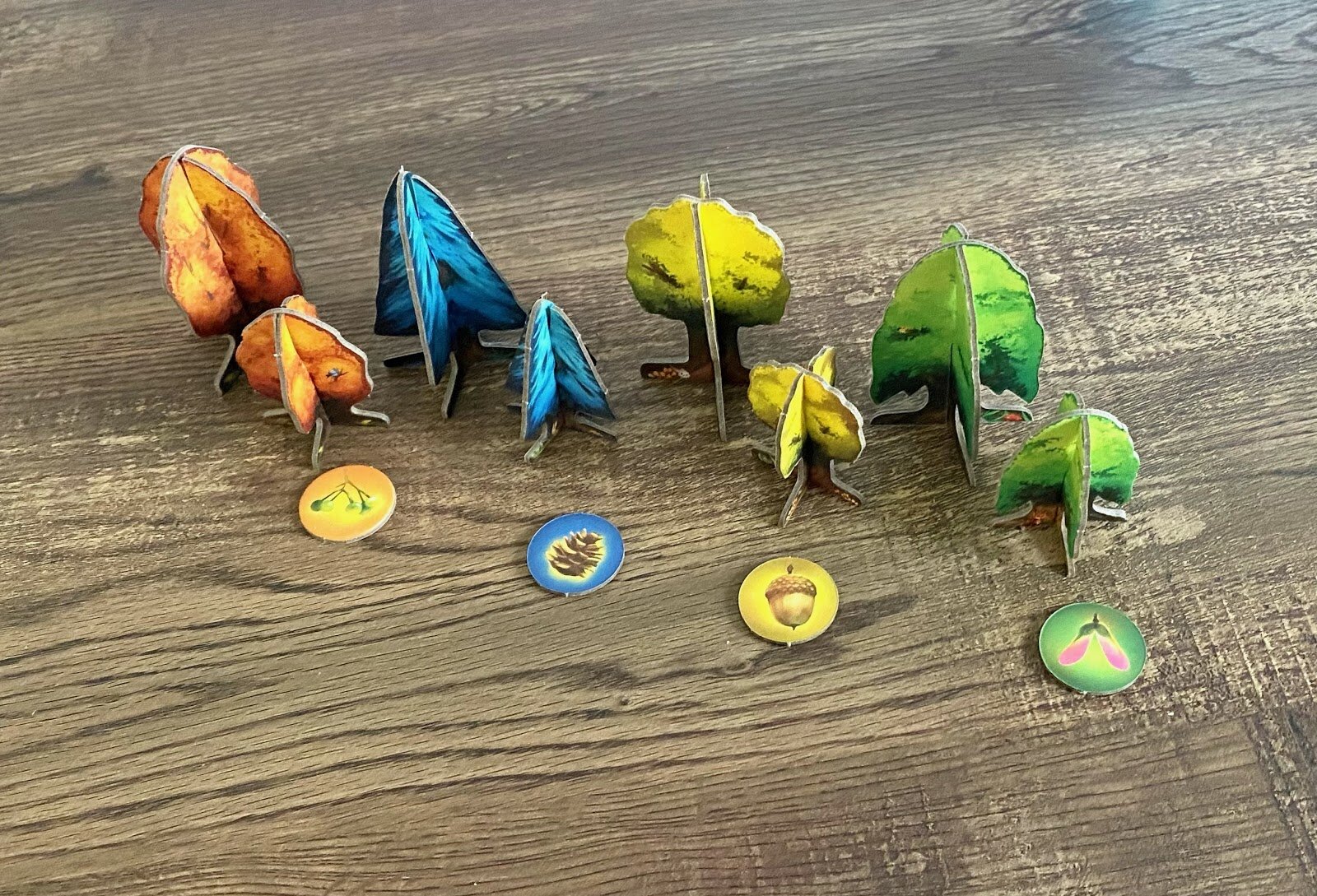 Artwork
With the use of natural colors and attention to detail, the artwork of Photosynthesis is inspiringly beautiful. As I set my trees on the board, I was reminded of the natural forests I would run through in my youth back home. I am partial to the maples, but the oak, pine and linden trees are equally as stunning. I love that the each players tokens, trees and counters, not only differ in color but markings as well. As such, those of us who have difficulty discerning changes in color should be able to determine which pieces belong to which player.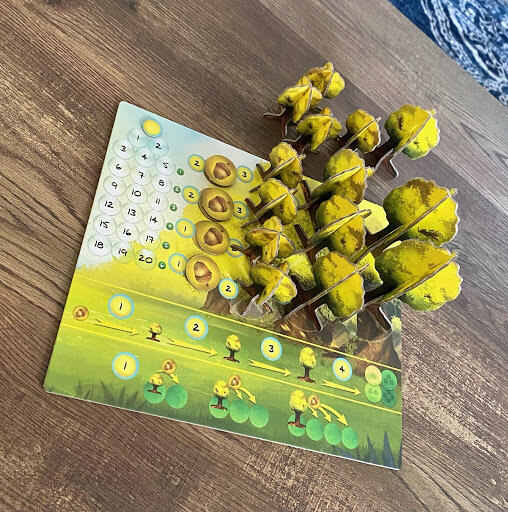 Enjoyment Level
Variant J and I really enjoyed getting to play Photosynthesis! It was a unique and visually stunning take on resource management that involved thinking several turns ahead. I also really appreciated having the card in front of me, showing the action economy used for each of my turns. This helped me stay on task and greatly improved my experience!
Overall
If you or your game group like resource management style games, especially those with a nature overlay, this is a game you will enjoy. The artwork will delight you as you strategically place your trees to maximize your sunlight intake. I also appreciate the organization that comes built into the storage box. Even Delilah gives her approval!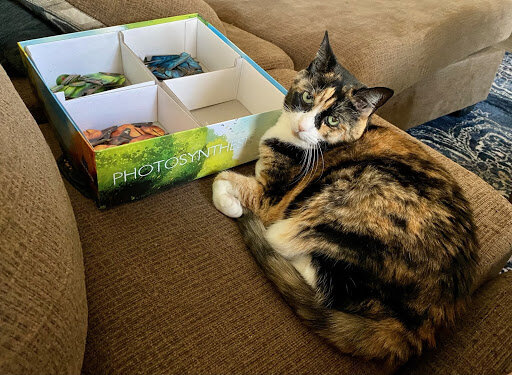 *Photo Credit: Variant Berry
Related: Game Review: Machi Koro
Have you played Photosynthesis? What are some of your favorite forest-themed games? Tell us in the comments!