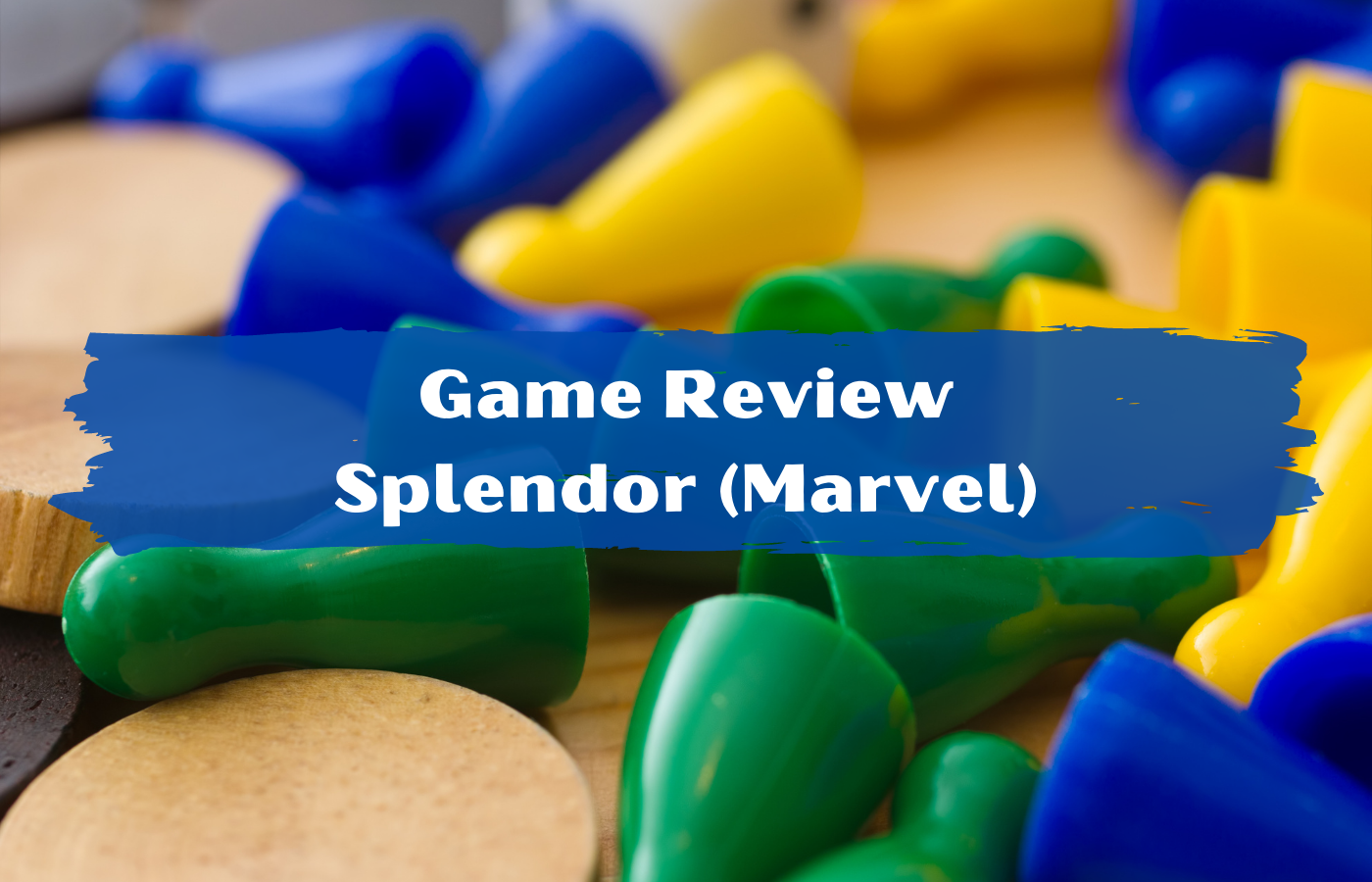 Greetings superheroes!
In my first game review, we will look at one of my personal favorites Splendor & Splendor Marvel. I was first introduced to this game about 5 years ago by several friends. Recently as I was searching online, I discovered the Marvel Edition! As a fan of Marvel and the original game, I had to add this to my collection. I loved it, and I hope you will feel the same after reading this review.
Let's get started!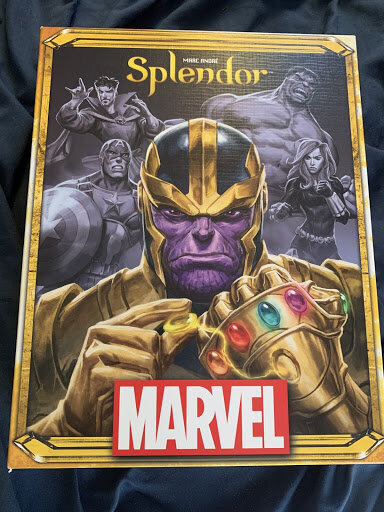 Overview
Welcome to Splendor, where you take on the role of being the leader of a merchant guild! Your goal is to use gemstones that you pick up every round to exchange for development in order to gain points and attract the attention of nobles. The first player to 15 points or more wins. Splendor can be played with 2-4 players. This game is from SPACE Cowboys and was designed by Marc Andre. It features: strategy, beautiful artwork and it gives players multiple ways to play this game. This game has the base game (Splendor), an expansion that includes 4 new ways to play (Cities of Splendor Expansions) and the Marvel version which was released in September 2020.
The Marvel version has a similar game play as the original, however the story is centered around Thanos and his quest for the Infinity Stones. Instead of leading a merchant guild, you are the leader of a team of heroes and villains. Your goal is to get infinity stones to recruit your team and locations in order to win enough Infinity Points to get the Gauntlet.
These games can be found as a hard copy at your local game store or online shopping website. The games all typically run between $30-$40 which is cheaper than the market sale retail price. Please note some stores may sell it for its market sale retail price.

Ease of Set Up and Play
This game requires some setup but is very easy to follow from the directions. You have three decks of cards, tokens, and location tiles that give you an additional opportunity to get more points. The gameplay changes a bit with the expansions and the Marvel edition; giving you more options to the story line. The Marvel edition changes by adding an "Avengers" card once you get character cards that have the Avengers logo on top. This card gives you more points like the location cards. It also adds the green token (The Time Stone) which can be achieved by getting a character card that also has the time stone on it. The time stone, along with one character card of each stone and a total of 16 points is required in order to win.
I do recommend getting rubber bands to wrap around the cards & tokens as when traveling with the game, items can get out of place.

Replayability
In Splendor and Splendor: Marvel the same concept of getting the most points wins, but the strategy is always changing based on the cards that are available to collect and additional cards that give the extra points. When I first learned and taught several friends the Marvel Edition, we found ourselves playing multiple times. We enjoyed the game and learning from one another while also wanting to win over one another. My friends are new to this style of board game and found it pretty easy to figure out during the first game play.Artwork
The artwork is simple but detailed. For Splendor, the jewels and cards are well designed and easy to read. For the Marvel Edition, the heroes and villains look incredible. I found myself looking at the details and admiring the different styles of heroes we know or may not know so well during the course of play. I also enjoy the variety of colors in the game play, as it really brightens the game while also making it very visually appealing.
Enjoyment Level
I love this game as it involves multiple strategies. Throughout the game I found myself trying to figure out my opponents strategy while also tweaking my own. My friends & I also have a form of ADD/ADHD which can make it hard to focus, but not with this game. We were all silent & focusing on our next moves very carefully. It was evident how laser focused we all were and if someone were to talk to us while playing, it was not going to happen. I also find for myself, if I can focus instantly on a board game and be constantly engaged, then it's definitely a winner for me.
Overall
I find Splendor a lot of fun! It's a great amount of strategy without making your brain overanalyze the details. If you love the Marvel Universe as well, I highly recommend getting the Marvel Edition as well. It is easy to understand when reading the rules especially for players who are new to board games. I highly recommend this game & so does my dog Otto!
*Photo credits: Allison J. Walker
Have you play any of the Splendor editions? What did you think?