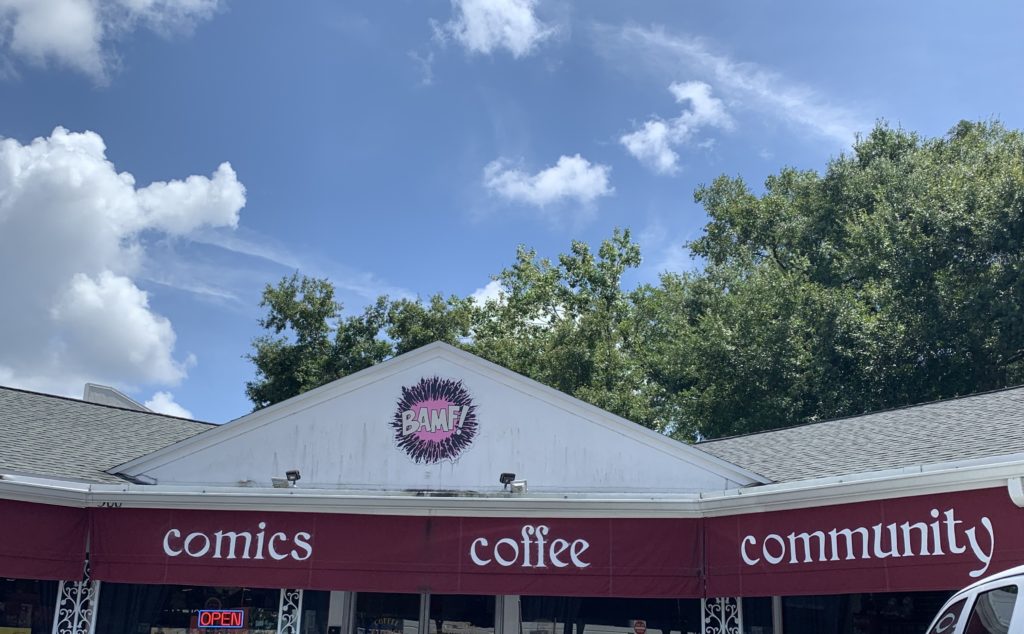 Greetings superheroes and lovers of all things nerdy! Next up on our Central Florida Spotlight Series is BAMF Comics & Coffeehouse located in Maitland, FL.  BAMF Comics & Coffeehouse has been "believing in the power of imagination" in Central Florida since September 2018. How is this done? By being "fueled by ink, pulp, and coffee". This store/coffee shop serves as an inclusive space for all so they can find their "fuel", their inspiration & creativity as a place to have fun. This is evident based on the layout of the store and the very welcoming staff.
So let's take a tour of this awesome shop!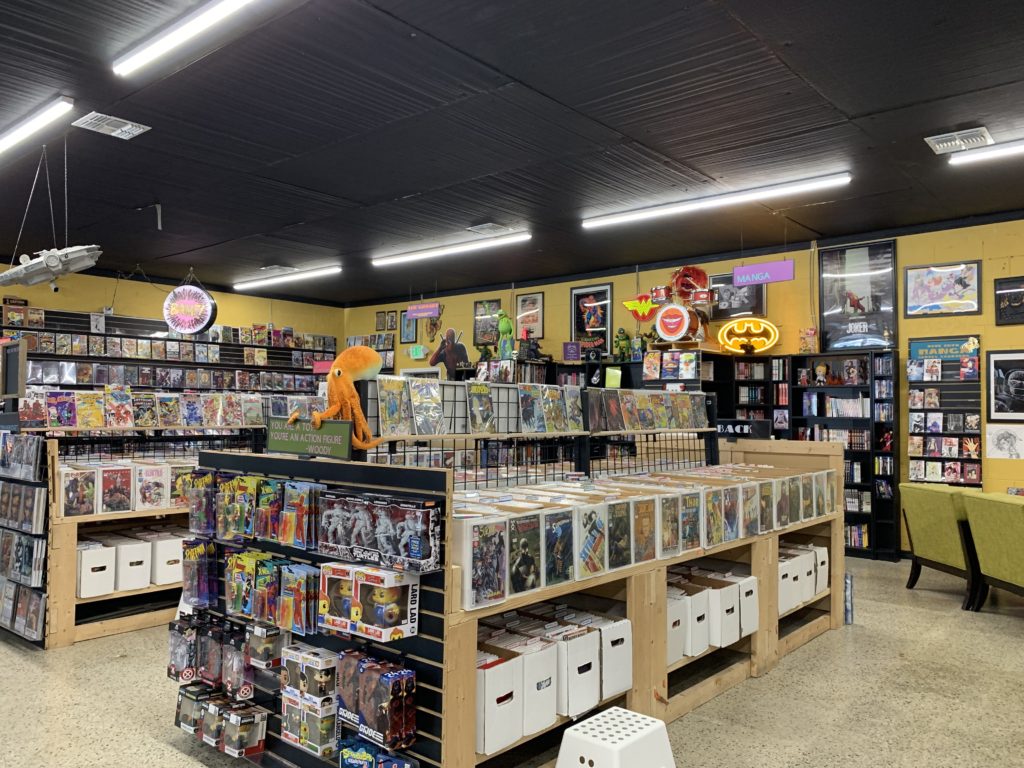 Located on Horatio Avenue right near Orlando Ave. The shop shares the parking lot with a couple other businesses, but don't worry if you can't park in the main lot in front of the store, more parking is available on the corner! Right as you walk in you will see a large space of tables & booths, and behind all of that lies the coffee shop. To the left, you will see a large selection of comic books and bookcases. The comics range from what's current to a large collection of back issues. You will also find graphic novels and figurines. Right behind the comics you can see their book shelves that range in many topics from BIPOC, counter culture, LGBTQ, Classic Lit, graphic novels, Anime/Manga, Crime, Oversize, Novel Prose, Sci-fi, Fantasy, Horror, and Espanol. Their selection of books is aligned with their mission. I found myself wanting to come back to check out more of these genres that I'm interested in!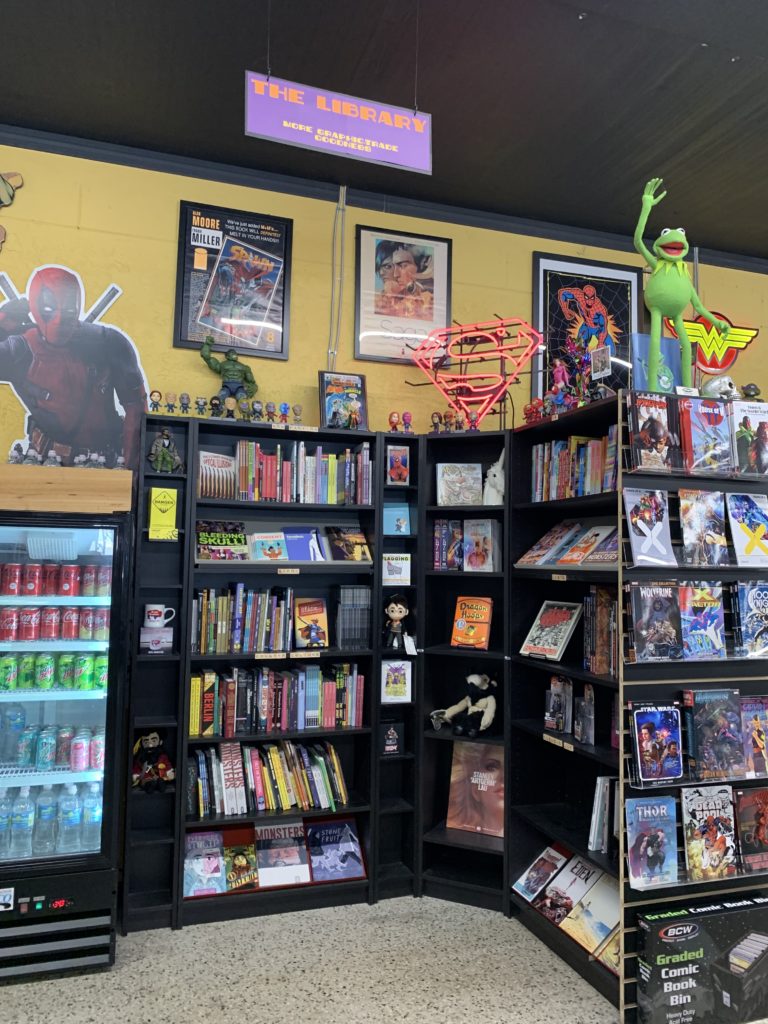 As you follow around the bookshelves, you will find a cozy area that has several comfortable chairs with nerd decor and a flat screen TV. On the right side as you walk in, you will find three large shelf aisles and a three piece shelving unit full of collectibles, figurines (including pop figures), children's books, Dungeon's & Dragons supplies, and a section to borrow board games for the night. The price to borrow a game is very affordable! This is helpful, as you can borrow and play a board game while you enjoy their coffee and food.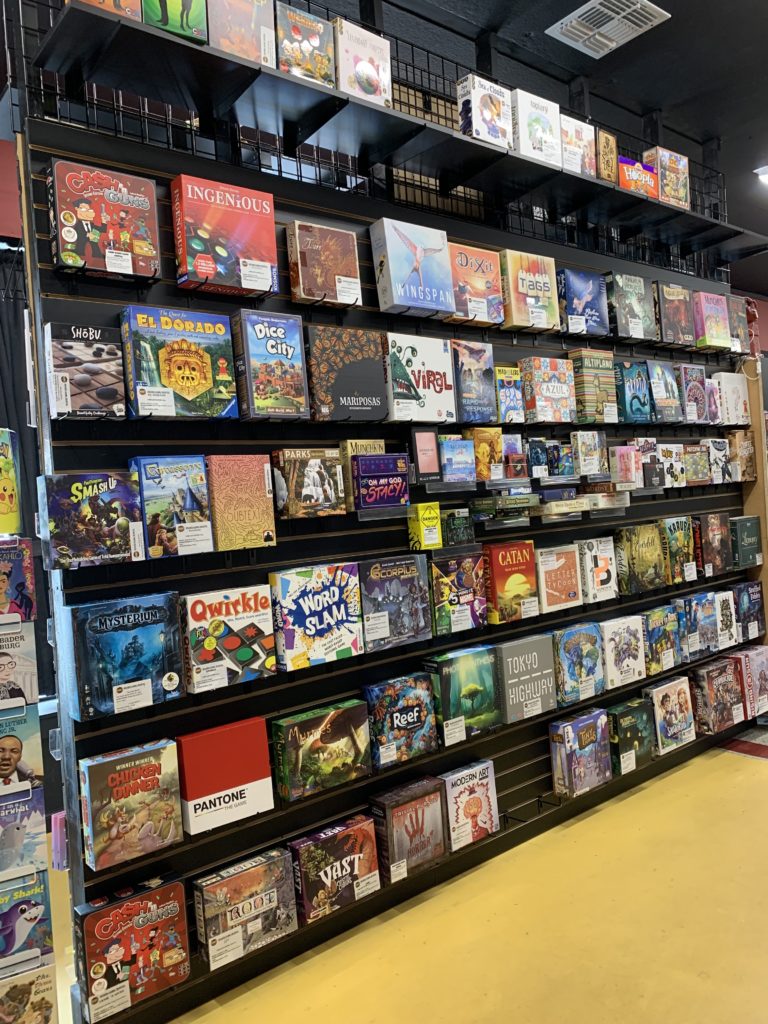 Lastly, in the center of the shop, you have your main area of tables, a selection of vinyls and, of course, coffee. Their coffee shop is a must when you visit this shop. Their selection of beverages include cold brew, teas, chai, cocoa, coffee, espresso drinks, frappes, sparkling lemonade based drinks called restoratives, and sparkling, cascara-infused drinks called Lotus energy. Lastly, check out their good eats, which includes a daily list of sandwiches and bubble waffles!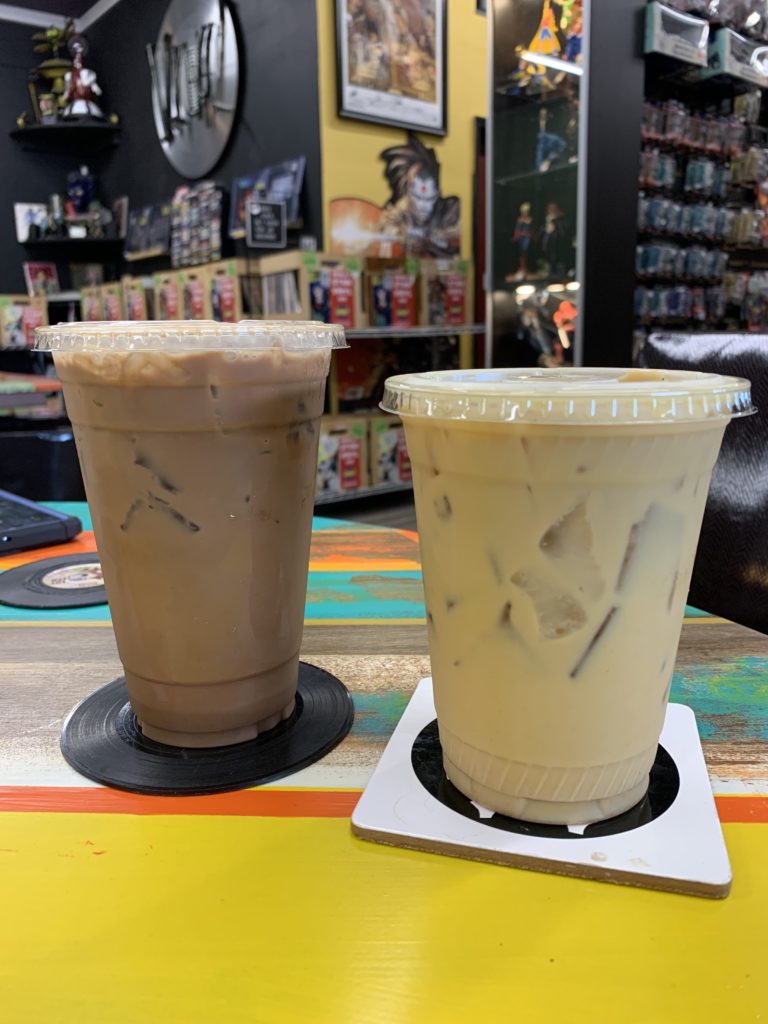 The coffee above (left to right) is a Cold Brew: Dark Night and an Iced Pumpkin Spice Latte (aka a Basic Witch). When my girlfriend and I took the first sip of our coffees, we were both silent. The flavors are too good! In the Dark Knight, the cold brew was complimented perfectly by just the right amount of dark chocolate and vanilla/cream. I have acid reflux so I tend to stay away from cold brew, but for this one, I just knew I could drink it and not feel the effects a cold brew gives me. I didn't, however, as the Dark Knight was my girlfriend's drink (and this basic witch loves pumpkin spice) so I had to try the Pumpkin Spice Latte. The Pumpkin Spice Latte was very refreshing, with a the right amount of coffee, not overly sweet and simply heavenly. I was a very happy basic witch drinking this while we played Animal Crossings Monopoly (Game review coming soon!). The coffee is also affordable and budget friendly.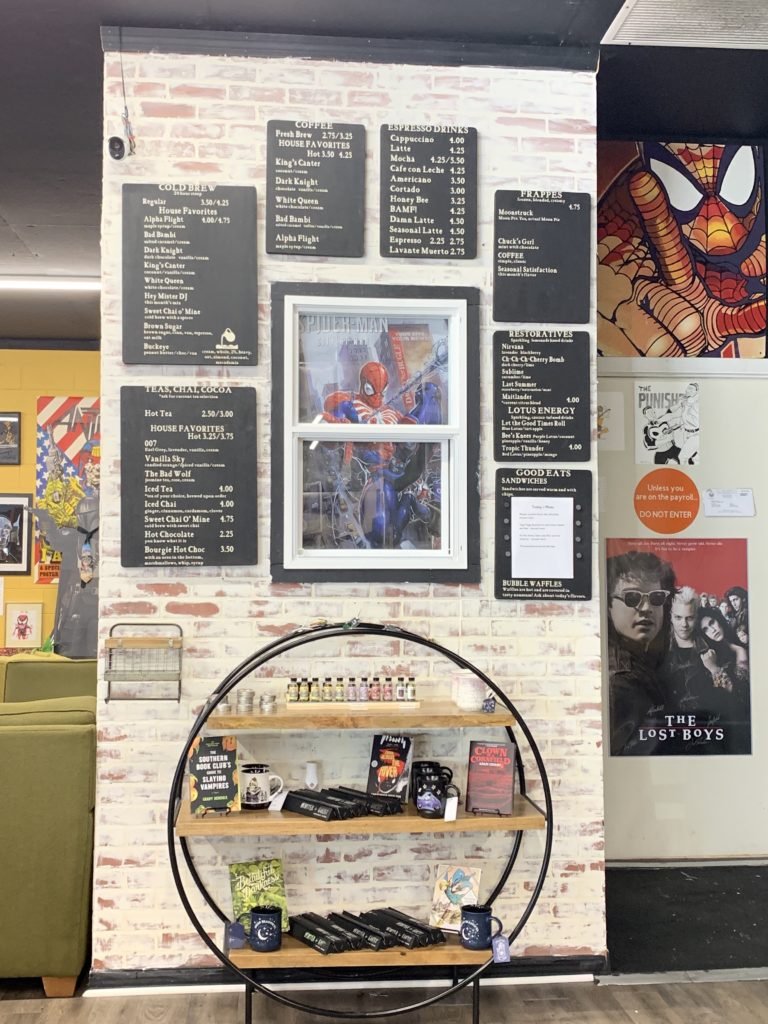 What makes this shop awesome?
This shop is unique, as it combines several elements of the nerd community into one shop. From comics, to books, gaming, collectibles, and you can't forget the coffee! For comic book lovers, their comics are not separated by publishers, and are simply in alphabetical order. I appreciate this, as it definitely had me browsing more independent publishers that I haven't heard of before. If you have questions about anything in the shop, the owners are so awesome! They are very knowledgeable about everything in their shop, what trends are happening in the various communities, and are generally easy to talk to. The selection of items in their store is so eclectic! Things that I wouldn't think of finding in a comic shop, were found here such as incense, pins, stickers, records, and much more. If you're looking to get some homework or writing done, then maybe read your comics or books or meet up with your friends after working to play games, this is the place to go to! 
How to connect with BAMF Comics & Coffeehouse
BAMF Comics & Coffeehouse is located at 500 E Horatio Ave, STE 3, Maitland, FL
Follow them on facebook, instagram, and twitter. You can call them at 321-316-4296 or email them at bamfcomicstore@gmail.com
Let me know what you think and any shops you want us to feature.  Keep saving the day my friends!
Source: facebook.com/bamfcomicstore