Brew is the newest game from Pandasaurus, released July, 15 2021. 
Brew is designed for 2 to 4 players, ages 10 and up and will play in about 45 to 90 minutes, once you get the hang of it. Our first play through was well over the 90 minute mark. 
I was originally drawn to the game because I thought it would help me feel like a Druid when I cannot play a Dungeons and Dragons session. I am pleased to report that this is exactly how the game made me feel! If you are looking to brew some magic, befriend creatures and explore the forest throughout four seasons, this game fits the bill!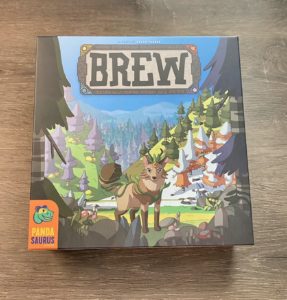 One of the things I enjoy the most about Pandasaurus games is the straightforward rule set. That being said, this is a 19 page rule book. I recommend giving yourself time to read through the rules prior to sitting down to your first game. 
Each player is given a two sided card that outlines what is possible on each turn and all of your options for dice trades. This is such a nice touch to help keep the players on track without having to share one rule book. 
One thing that is important is having an idea of what you are going to do on your turn. Each player has roughly 6 turns per season and there are four seasons to play through. Much like combat in Dungeons and Dragons, the turn can move at a snail's pace if you don't have an idea of what you are going to do. 
To meet our player's needs we also took a break halfway through. Don't let the sweet artwork fool you, this is a serious game! 
Like other Pandasaurus games I own, I can see picking up Brew and playing through for many seasons to come. The game provides multiple paths to win. You can focus on making friends with creatures, brewing potions for bonuses or taking control of the forests. I am a huge fan of games that allow players to develop different strategies for problem solving, and all the better if the game contains animal friends! 
We preordered our game, which offered us 4 additional creature cards to use. Talu, Kyte, Sniph and Pickles (my personal favorite) offer additional strategy to the game, making it even more likely to replay. 
The main characters of Brew: Lyrics, Lello, Wren and Myla, are fantastic! They are drawn in a wonderful cartoon style that emulates curiosity and determination. The Creature Cards depict lovely, magical critters, whose looks change throughout the seasons. 
One of the best artistic touches in the game are the dice! There are both Forage Dice and Element Dice, with different patterns and colors on them. I love it when the dice have both colors and patterns to them. I hope that future editions of the game include colors that contrast a little more for accessibility and those with colorblindness.   
I really enjoyed how the table looked when everything was set up. The only word I can come up with is "delightful" for describing the artwork in Brew. The randomness to the Forest Card set up really allows for a colorful table and, did I mention, the creatures are so cool!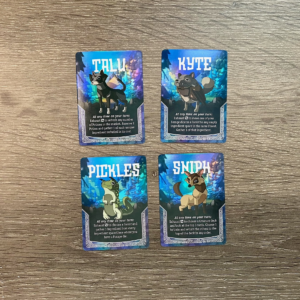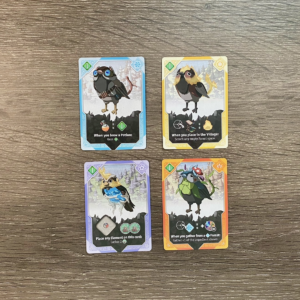 I personally had a blast with this content! It reminded me of playing in the woods when I was younger, only in a board game format (and no chance of poison ivy!).
Because the game plays out over four cycles, I highly recommend using the time between your turns to plan out your next move. Similar to combat in a Dungeons and Dragons session, game play can move at a snails pace if players are not focused on the game. Fortunately, each player gets a two sided card outlining all of the possible things to do on their turn. This touch really helps! 
It's the perfect thing for a game night where you put your phones away and focus on what's happening at the table. In my case that was the game, friends, snacks and a cat who decided this game was really about him swatting the dice!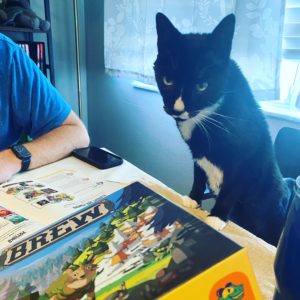 "It's the perfect thing for a game night where you put your phones away and focus on what's happening at the table."
I recommend this game for players who are looking to up their board game experience. While it does take some time to play through, it is very clear what you are able to do on each turn. This serves as a great bridge between those who enjoy casual games and those who are looking for a more strategy heavy experience. 
I personally love games like this, as we usually have players of all levels at our table. The flow of the game also allowed for a break halfway through, if you need it. This is another solid product from Pandasaurus! I really liked that there was a small reward for pre-ordering the game as well. It was a special touch that has added enjoyment to our game! 
If you get the chance to check out Brew, I highly recommend it! The theming is wonderful and gameplay offers so many options!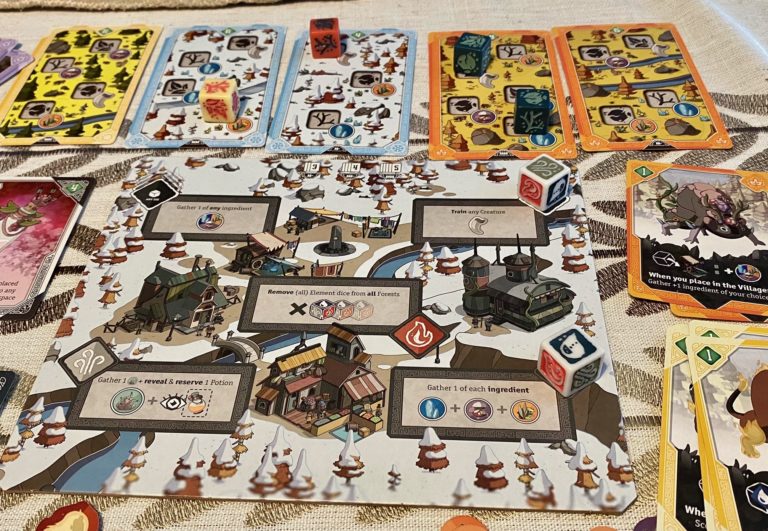 P.S. You may have seen my review of Machi Koro. Currently, you can pre-order Machi Koro 2 from Pandasaurus. Pre-orders will receive three free landmark cards! 
*Photo Credit: Variant Berry