We hope you had a Happy International Dog Day superheroes! We loved to celebrate with our fellow dog lovers yesterday and hope you all had a wonderful time with your canine companions. In honor of the special day, let's talk about why International Dog Day is significant, some dogs out in our nerd world, and lastly, my Variant Familiar, Otto and how he's connected to this day and feature. So let's begin with the story behind this day:
How International Dog Day Began...
National Dog Day began back in 2004 by an incredibly talented woman, Colleen Paige. She used her experience as a "Pet & Family Lifestyle Expert, Animal Rescue Advocate, Conservationist, Dog Trainer and Author" to create this specific day. Her goals were to help increase the recognition for dogs and to inspire more people to adopt dogs through rescues only. She wants people to understand the work of dogs and how much value they bring to our lives. That dogs are more than our pet, they protect us, help rescue humans, and are there to brighten our days no matter how we are feeling. She also helped create other awareness days "such as National Puppy Day, National Mutt Day, National Cat Day, National Wildlife Day and many more" all following the same mission as National Dog Day. So in honor of this day, let's explore some dogs in the nerd culture. Our first one: Dogpool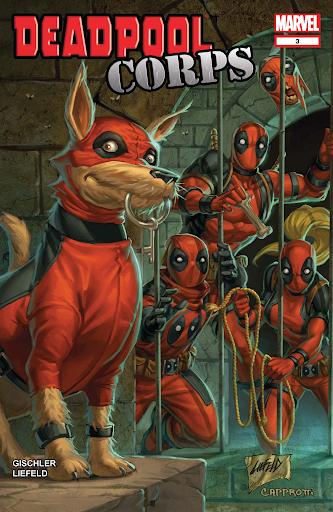 During my research I learned that yes there is indeed a version of our favorite merc with the mouth as a Dog. Dogpool was created by two scientists on Earth-103173 who were managing a project for "Babelline Cosmetic company". Their goal was to provide customers with the opportunity to be forever young. This project is compared to Weapon X. After completing tests it was assumed that the dog was no longer alive and thrown out. However, the dog was alive and found by a local circus who realized he has the same powers as Deadpool. Deadpool would later find this dog in another future reality, Earth-616 and convince him to be part of his new team, the Deadpool Corps. The Deadpool Corps consists of other Deadpools including our main Deadpool to help save another universe. You can read about Dogpool and his adventures with the Deadpool Corps which can be found on the Marvel Unlimited app. This is a 12 issue series which is usually the standard run for comic books. Next up on our nerd culture dogs, Isabelle, from Animal Crossings:
Isabelle, Animal Crossing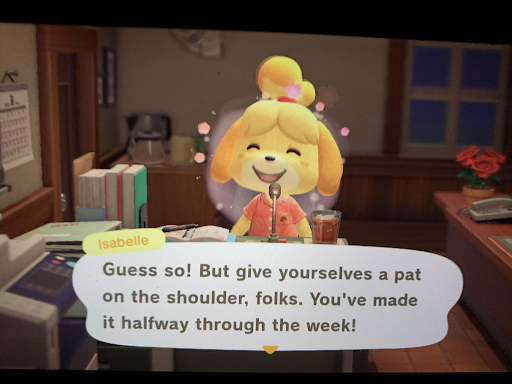 As a lover and newer player to the Animal Crossings Franchise (my first Animal Crossings game is New Horizons), I had to feature Isabelle. Isabelle has served several roles in Animal Crossings from Secretary, the assistant to Tom Nook, helping the main character with building projects, and other roles that showcase her as a dog. Her loyal and helpful behavior helps players throughout the game and provides a bright personality similar to those of our canine companions. Other fun facts about Isabelle: she's featured in Mario Kart 8 and Super Smash Bros, has a twin brother, but did you know she is a Shih Tzu? After learning this, I was surprised but also found it interesting as my dog is a Shih Tzu mix. I then could see more in her character as I've learned with my Shih Tzu. Isabelle is very helpful, loyal, and happy go lucky but has no problem ensuring her residents are safe. This definitely gave me a newfound appreciation for this character. The last dog in this feature is my very own familiar, Otto.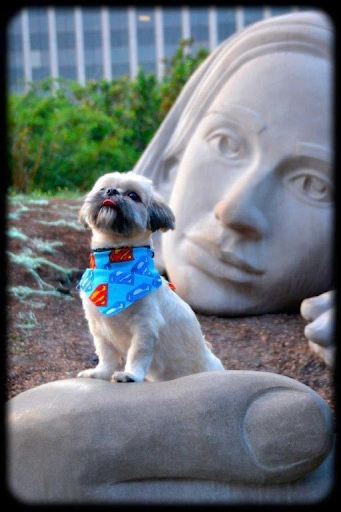 The last dog in this feature is my very own familiar Otto. Otto connects with this day and feature as he was adopted from a local rescue and is my personal super pup. By pure chance and a previous girlfriend, I found Otto, a Shih Tzu mix. When I met him, I wasn't planning on adopting a dog soon, but that changed instantly. I remember going up to him and by the time we were walking out of the vet's office the bond was there. I waited almost 3 weeks to confirm I could give this dog the life he deserved. On June 17th, 2016 I paid his adoption fee and he became my very own super pup. The nickname came from my love of Wonder Woman but with being a male dog, he needed a male hero. Thus the Superman bandana then later a SuperMan collar. The love for Wonder Woman and Superman fit perfectly for Otto as he has indeed been my doggy super hero. No matter how happy or when depression or anxiety kicks in, Otto is right there for me. I'm very fortunate to have this loving dog by my side. He also connects to the Star Wars culture as he looks like an Ewok and one of the very first toys I got him was an Ewok. The Ewok has been his favorite toy and still is 5 years later. I even incorporated it into my tattoo for him (see below).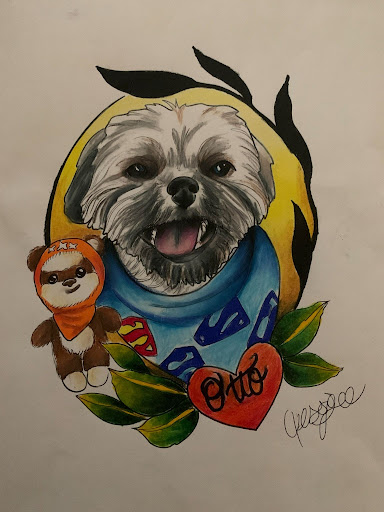 So my dog loving friends, go out and love your dog or if you don't own one, visit your friend's dog or adopt a dog (if you are financially able to) or volunteer at a rescue or shelter. You can find your new furry friend at any local rescue. If you can't adopt, donate to a rescue or volunteer. Make sure to check out the dogs in our culture and connect your love of this world with your pup. There are so many ways to share your love of our world with your animals. Enjoy your interests and celebrate them. If you're interested in rescuing and are located in the Central Florida area check out the links below. It's how I found my super pup. And hey let us know in the comments how you celebrate this day with your dogs. We love animal photos!. Keep saving the day my friends!