Good morning, Variants! Today I would like to spotlight one of our charity partners: Team Pixel Damage! If you have watched Variant J stream, you know he is an active participant of this wonderful group of people. 
Team Pixel Damage is a group fundraising for Extra Life. Extra Life is a year round organization where participants help raise money for Children's Miracle Network. They are best known for their 24 hour gaming marathon, which takes place in November. 
Today we are going to hear from Mike Block, captain of Team Pixel Damage. Mike is going to tell us a bit about the Team Pixel Damage journey, where they have been and where they are going. Please consider following and supporting Team Pixel Damage in their mission! 
Who is Team Pixel Damage?
Let's start with a fun fact!  "Team Pixel Damage" actually got started as "The Pixel Damage Podcast".  Of course it's more of a spiritual succession rather than tangible given that the former was literally just a collection of friends trying to strike out on the golden age of podcasting and make it big.  Spoiler alert: we retired with all of 30-ish subs and failed to find our "make it big moment", but we had a ton of fun doing it and we were all pretty jazzed about the world of gaming and technology!
Just as the podcast was fading out of view, one of our friends from the show found out about this thing called "Extra Life".  It was an event that was being created by someone from the popular video game blog/website Sarcastic Gamer.  This was only the second year of the event and if you read up on the history of Extra Life, this was basically the first year they tried to go national with it.  It was billed to be a "24 hour video game marathon" and naturally the first thought was precisely: "Hey look!  It's a marathon I can actually complete!" and that was about it.  My friend signed up, I signed up, and eventually the rest of the gang from the podcast signed up and we were off.  I think my fundraising total was somewhere around $355 dollars, which was exactly $355 more than I ever expected to be able to raise, so hooray!  All together we were probably around $500 as a group.  Sort of a fun little way to raise some money for charity and play some games.
Then year two rolled around and the Extra Life team went all in on making this thing bigger and better than ever.  They introduced the ability to create a "Team".  When we saw that, combined with the fact that the podcast was finished, it was a natural fit to take a name that we had all grown accustomed to and adapt it to now be "Team Pixel Damage", and henceforth we would focus exclusively on this event.  Year 2 came and went and I raised another $350 and as a team we actually were able to raise $1,411.
Between years two and three our team had the first of two major catalyst moments.  My friend Dave, who had started our interest in this whole thing, had the birth of his first child.  After a routine delivery and first few days of life his kid was getting one last check from the doctor before they were going to head home.  While checking their heart the doctor heard a murmur.  It was enough to worry the doctor and as Dave describes it; the room became a beehive of activity and everything started moving really fast.  Before they knew it, their kid was scheduled for open heart surgery to save his life.  In one moment of candor the doctor stopped to tell them that had they gone home, things would have turned out very different.  This all happened at the very same hospital Dave had chosen his fundraising to go towards.  Year three Team Pixel Damage raised $4,854 with most of that going towards the hospital that saved Dave's kid.  While we still had fun doing it, the event all of a sudden clicked with all of us as to the gravity around why this event was created.
Fresh off the events of year two my wife and I found out we were going to have a baby, and shortly thereafter we found out our baby had a significant abnormality called an "Encephalocele".  A rare neural tube defect which meant that her skull would not be properly formed and would have a large hole in it causing a series of neurological complications.  She was born in September and my Extra Life funding that year (and every year since) went to the hospital that would, in the following years, perform 6 different operations on her, many of them brain surgery and several facial reconstructive plastic surgeries.  Year three, we raised $6,334.  For me personally, this is when the event settled into its new shape that it had begun taking the previous year.
2021 will be our 12th year participating in this event.  Over the years we've largely remained the same group of gamers and expanded to bring new members into the fun.   Over the past 12 years Team Pixel Damage has raised $70,241 for Children's Miracle Network hospitals around the country.  Each of us finds our own space for what this event means and why.  The unifying factor is we are all motivated to play games and heal kids.  None of this is possible without the support of our community of friends and family and it is one of the most humbling things imaginable to be able to use something we love to facilitate a better life for these kids and their families who have found themselves in a "worst case scenario" situation. 
We stream our marathon every year on our Twitch channel (as well as periodic streams throughout the year) at:
twitch.tv/TeamPixelDamage
(Do check us out, and subscribe!)
You can also find our
team fundraising page HERE
.  Please feel free to share the
link
, make a donation, or if you're looking to be a part of what Extra Life is all about,
sign up
to do some fundraising of your own for your own marathon and feel free to
join Team Pixel Damage
in the sign up process!
A most sincere Thank You from all all of us,
Team Pixel Damage
Get your 2021 Team Pixel Damage Supporter Shirt!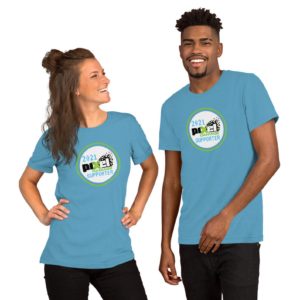 If you are looking for a way to help show your support for Team Pixel Damage, check out the Variant Ventures Shop for this year's supporter shirt!