As the weather begins to cool and the thoughts of resting near an open fire become idyllic I wanted to bring a little heat to the next dish or dishes featured in this month's Heroes' Feast Cookbook Cook-Through series. So, Variant Rory and I settled on two complementary dishes to try: Dwarven Flatbread (page: 103) and Underdark Lotus with Fire Lichen Spread (page: 93). Both recipes can be found in the Dwarven Cuisine segment of the Heroes' Feast: The Official D&D CookBook. 
Author's Note: I may make some flavor modifications for preference, but this shouldn't detract from the overall experience and I encourage anyone who cooks or bakes to add adjustments and make the meal or dish more enjoyable for yourself! It's about exploration, so don't be afraid to try new things as well as tried and true practices. As always, you can find the ingredient list at the bottom of this article. Now on to the cooking!
Related: Heroes' Feast Cookbook Cook-Through: Traveler's Stew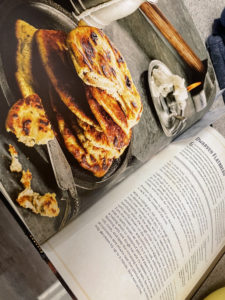 First and foremost, I am a firm believer in gathering all of your ingredients together and reading through a recipe twice before attempting to start. Seeing there were some cooking and resting times in both recipes I decided to prep the spread first.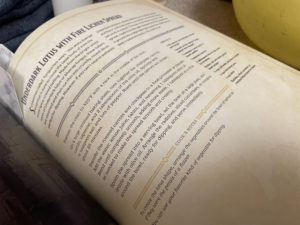 Following the recipe, I started by roasting the carrots and chickpeas in the oven for 25 minutes. I wound up adding about 5 more mins to the cooking time to soften the carrots further after testing them with a fork after the initial 25 minutes.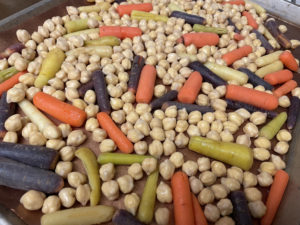 While the veggies were roasting I prepped the flatbread by combining all of the dry ingredients then incorporated the wet ingredients as instructed.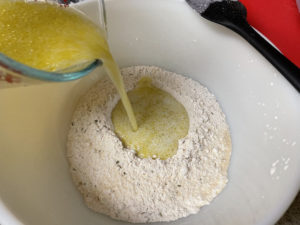 After using my dough cutter to separate the pieces into 8 equal-sized segments, I rolled them as instructed, placed them on a sheet to rest, and covered them with a thin flour towel for 15 minutes.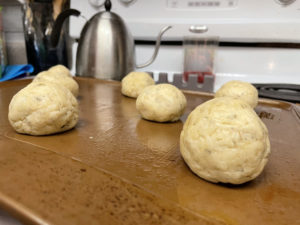 As the flatbread dough rested I prepped the tahini, lemon juice, and spices for the spread mixture together in a Pyrex measuring cup to be added later.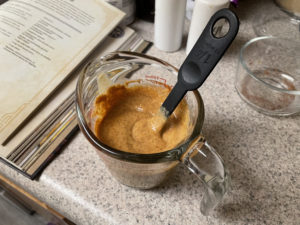 About this time is when the veggies were done roasting so I pulled them out of the oven, lowered the heat of the oven to the lowest setting (200'F), and went to work on the spread. I added all the carrot and chickpeas to my food processor and quickly realized I MIGHT have prepped too many chickpeas… whoops. Regardless, the dish managed to still fit in the food processor and as it whirred around I slowly added the water and tahini mixture I had prepped. Because of the overload of veggies I did have to add another 1/4 cup of water when all was said and done.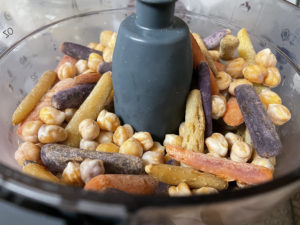 As the mixture cooled in a serving bowl, I set out to finish the flatbreads. As instructed, I rolled them out individually, dusting with flour as I went, and began cooking them in a warmed pan. I set a cooking sheet in the oven and cooked the flatbreads as instructed.
The end result? Though I may have incorporated too much flour while making the Dwarven Flatbread because it ended up denser than intended. Despite this error, the flavor was fantastic! Variant Rory suggested layering the extra flatbreads with honey for breakfast the following day and spoiler alert, it was a great choice!
As for the Underdark Lotus with Fire Lichen Spread, I definitely made WAY more spread than was necessary for Variant Rory, myself, and our little one. We would up making two spare servings to give to friends and family. Note on the spread: They are NOT joking when they say "Fire" Lichen Spread. This dish packed a lot of heat and for those sensitive to spicy foods I recommend halving the seasonings or replacing them with garlic and onion. We enjoyed the spread with some carrots and celery and the flatbread was an excellent compliment!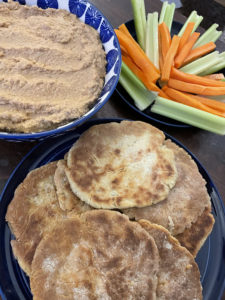 Overall, I would give the Flatbread a 10/10 would recommend, as it pairs well with many savory and sweet dishes and I will be making this again! As for the spread, it was a hit or miss, personally giving it a 6/10. If requested I would make this again, but the recipe is a bit much for just one or two people to enjoy even when using the correct ingredient amount.
Related: Series: Heroes' Feast Cookbook Cook-Through
If you make these recipes for yourself we would love to be tagged in your photos and story to hear your thoughts! To try these recipes for yourself, learn more, and/or to order your own copy of the Heroes' Feast: The Official D&D Cookbook CLICK HERE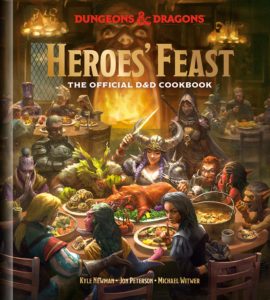 Ingredient List for Dwarven Flatbread: flour, baking powder, baking soda, kosher salt, italian seasoning (or herbes de Provence or za'atar), extra-virgin olive oil, greek yogurt or whole milk, vegetable oil
Ingredient List for Underdark Lotus with Fire Lichen Spread: chickpeas, carrots, cumin seeds or sweet paprika, cayenne, olive oil, black pepper, water, lemon juice, tahini, and radishes, sliced cucumbers, or romaine lettuce
Please note: Some of our posts may contain affiliate links which means the Team at Variant Ventures could earn money if you purchase products from our site.