Happy Free Comic Book Day Eve!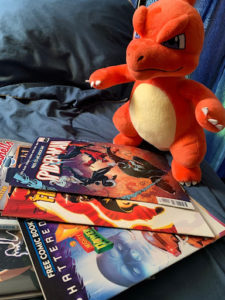 Greetings superheroes and comic book fans, our holiday is here! Free Comic Book Day is taking place this Saturday, August 14th. Prior to the global pandemic, this day typically takes place the first Saturday in May. However, this year the date was pushed to August in hopes the pandemic would ease up and as many participants as possible could celebrate this day. This article is here to tell you about free comic book day, why it is special, how you can celebrate it, and address any questions you may have (especially if this is your first time celebrating this day!) 
Let's begin shall we?
What is Free Comic Book Day?
At its most basic, free comic book day is a day to get free comics, but it's so much more than that! Here is why- Free Comic Book Day was created 20 years ago by a comic book retailer Joe Field that later turned into a major partnership between comic book publishing companies (DC Comics, Marvel Comics, Independent publishing companies), comic book shops, supply companies, and the main distributing company Diamond Comic Distributors. 
Their idea was to celebrate comics and get them in the hands of everyone, regardless of age, financial status, or identity. The publishing companies release a variety of different stories that go beyond what is largely popular. Some books can be previews to new series, or connections to video games, tv shows, or many other fandoms to show that comics are more than stories about superheroes and villains. This day serves to educate, break down the stereotypes of comics, and truly show why comic books are so fascinating!
Why Free Comic Day special?
Free Comic Day is about celebrating comic books by providing the opportunity for anyone to get one (or several depending on the shop) for free. It doesn't matter if you're a teenager, young adult, or older adult. You will find a book (or several) that will peak your interest. The world of comic books doesn't discriminate! There are series that talk about underrepresented communities; the people that felt that they didn't have a voice, the ones who had to overcome obstacles to achieve their dreams, and even comics that describe current events through a different, artistic lens. The world of comics is more than just the stories that become major movies. We wouldn't have these films if it wasn't for the comic books. Comics tell stories that open up a world full of imagination while remaining down to earth or relatable (or sometimes intentionally not).  
The other cool thing about Free Comic Day is that there aren't many days of the year that provide awareness and accessibility to a world of storytelling. One other such day that relates to our culture is Free RPG Day, which is fairly new.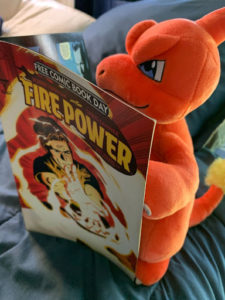 How can you celebrate Free Comic Book Day?
The easiest (and best) way to celebrate Free Comic Day is to visit and support your local comic book shop! I can't stress this enough! The holiday is free to participants, but your local comic book shop does have to pay for each book they hand out. So please, enjoy your free books but don't forget to show support to your local community! The owners and staff have been working hard to make this day the best fun and family friendly event so that you will want to come back to their shop. Your local shop may also be offering more than just the free comics. A lot of stores will do additional events such as craft fairs, or hire cosplayers and lookalikes so you can get a picture with a hero (or villain), or offer sales on graphic novels, figurines, Funko Pop figures, artwork, or other goodies. For my Central Florida fans check out some of these shops as they are hosting Free Comic Book Day events (I've included a link to their facebook pages for details):
Frequently Asked Questions
If you are new to this day, here are my responses to questions you may have:
Where can I find the books that will be available for free on Free Comic Book Day? 
How many free books will I be able to get?

This is going to be determined based on the shop you visit. You may find a list of their offerings on their event page information or by contacting them directly.

Are all of the free books available online at each shop?

Possibly- it depends on the shop. If you are looking for a specific free comic, I recommend contacting that shop as soon as possible.

How long does Free Comic Day last?

This varies by the shop, but supplies can be limited. My advice if you know that there is a book you really want, get to that shop as soon as you can!

Can I go to more than one shop's events?

Absolutely! But please, be kind, and if you've already received a copy of one of the books and that's all you need, please let others get their books too.

Are there any books you recommend or are excited about?

I'm definitely intrigued by Amazing Spider-Man as it features Venom, Life Is Strange as I've heard of the video game and have been curious to learn if it does include LGBT+ characters, The Avengers as i've been collecting the series since its current story arch started through Free Comic Book Day over 4 years ago, and there have been others that are catching my eye as well!  
If you have other questions, please leave them in comments below. I would be happy to answer any and all questions you may have, as Free Comic Day is very close to my heart. I love supporting my local community and I love what comics can do for oneself. When I started this interest, I was able to find characters I could finally relate to as a gay woman. Yes, these characters have powers, but their stories told more than just about their abilities. They showed strength, vulnerability, resiliency, hope, and that no matter what happens in life you are unique, talented, and should never have to hide who you truly are. So when you get your free comics, ask the staff what books would they recommend, or help you find that story that you can relate to. Then come back here to the comments and let me know what you found, how did you celebrated this day, and what are you excited to read! 
Keep saving the day my friends and Happy Free Comic Book Day!