Merry Christmas and Happy Holidays, Variants! Many of us will be enjoying a traditional meal with our family, friends, and loved ones in the weeks to come, but I wanted to try and mix it up a little before we dive into our holiday go-to meals that we are bound to enjoy a second or third (or fourth) time during the limbo period of time between Christmas and New Years. This month we tested out the Amphail Braised Beef recipe in the Heroes' Feast Cookbook.
Author's Note: I may make some flavor modifications for preference, but this shouldn't detract from the overall experience and I encourage anyone who cooks or bakes to add adjustments and make the meal or dish more enjoyable for yourself! It's about exploration, so don't be afraid to try new things as well as tried and true practices. As always, you can find the ingredient list at the bottom of this article. Now on to the cooking!
Related: Heroes' Feast Cookbook Cook-Through: Halfling Oatmeal Sweet Nibbles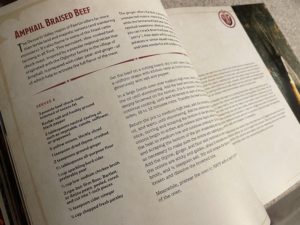 As with every recipe, I recommend reading all the way through the recipe twice, then gather and measure your ingredients before you begin to be sure you have everything you need. To start, I wanted to share that the book suggests adding "a few ladles" of au jus to the meal and I wholeheartedly agree. The flavor was okay without the au jus, but was significantly heightened with the addition.
Admittedly, because we didn't have a dutch oven we opted to cook this meal in a crockpot. This was simply a different form of cooking and didn't take away from the meal itself. That being said, I made a crucial error and forgot to take photos throughout the process. I do apologize to those who enjoy following along through the photos! I will say though, the outcome does make us understand why this was not a photographed recipe featured in the book, it's a little… monochromatic. (Monochromatic, but yummy!)
Related: Heroes' Feast Cookbook Cook-Through: Dwarven Flatbread and Underdark Lotus with Fire Lichen Spread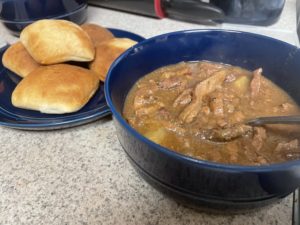 This will be a recipe I am willing to try again, maybe with the addition of some beer bread instead of standard roles. Mmmmm. Overall, I would give the Amphail Braised Beef a 7.5/10 rating. It was a good dinner and will be a great recipe to revisit, but the initial flavor left more to be desired without the au jus.
If you make this recipe for yourself we would love to be tagged in your photos and story to hear your thoughts! To try this recipe for yourself, learn more, and/or to order your own copy of the Heroes' Feast: The Official D&D Cookbook CLICK HERE
Ingredient List for Amphail Braised Beef: chuck roast, black pepper, neutral-tasting oil (vegetable oil), yellow onion, dried thyme, ground ginger, flour, hard cider, chicken broth, pear, cider vinegar, fresh parsley
Related: Heroes' Feast Cookbook Cook-Through: Traveler's Stew
Please note: Some of our posts may contain affiliate links which means the Team at Variant Ventures could earn money if you purchase products from our site.